There is no better way to start you holiday or honeymoon than arriving in style: whether by private helicopter over the South China Sea, or an exhilarating paraglide onto the beach – our motto is definitely start as you mean to go on….
By Land…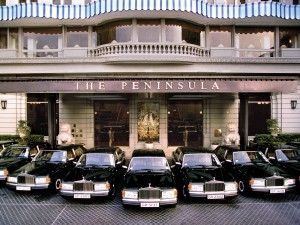 ROLLS ROYCE…
… TO BOTH THE PENINSULA HONG KONG AND RAFFLES SINGAPORE
Raffles Singapore, one of Asia's most iconic hotels has long been known for its celeb arrivals by Rolls Royce.  Declared a national monument of Singapore in 1987 you really can't pull up any other way.  Likewise, The Peninsula Hong Kong, long hailed as one of the finest hotels in the world also offers its guests the chance to arrive by Rolls Royce.  Their fleet of 14 Phantom Rolls-Royces' all custom finished in The Peninsula's signature green are guaranteed to provide relaxed, comfortable and luxurious transport to and from the airport.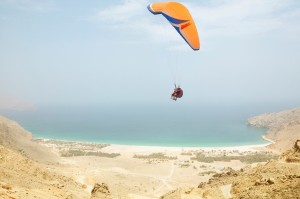 By Air…
PARAGLIDE…
… INTO ZIGHY BAY, OMAN
With its unrivalled location in the heart of Oman, Zighy Bay offers guests the exhilarating option to arrive in style…by tandem paraglide! Following a stunning drive through the mountains from Dubai airport  you are given the option to either jump off of Zighy Mountain… arriving on the beach and escorted straight to your villa, or for the faint hearted… don't worry you can also access the resort by car or yacht.
HELICOPTER…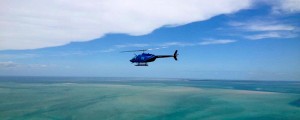 … TO AZURA QUILALEA, MOZAMBIQUE
Boasting pristine white sandy beaches, 1500 miles of exquisite coast line and sea life that is second to none, Azura Quilalea is located on one of Mozambique's most exclusive and remote private islands.  Just 86 acres in size and completely surrounded by a fully protected marine sanctuary; the snorkelling is unrivalled and with numerous dive sites to explore the diving is spectacular.  What's more…the only way to get there is by a 25 minute scenic helicopter ride over the Mozambique Channel….with views to die for.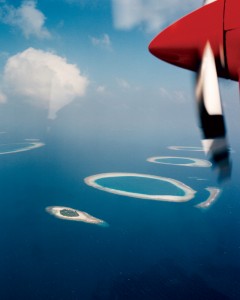 SEAPLANE…
… TO CONSTANCE HALAVELI, THE MALDIVES
After arriving in Male, guests are swept to the exclusive Constance departure lounge to wait in anticipation for the stunningly scenic 25 minute luxury sea plane ride to Constance Halaveli. Often described as the ultimate bird's eye view of the Maldives, the azure atolls and coral reefs can only be seen in all their beauty from the skies above.
LIGHT AIRCRAFT…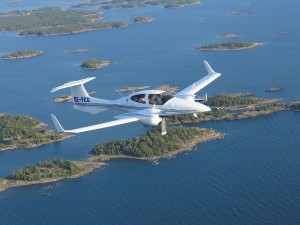 …TO ROYAL DAVUI, Fiji
Royal Davui is one of Fiji's most isolated escapes and is nestled in the private luxury of Beqa Lagoon, a group of 5 unspoilt islands surrounded by pristine coral reef.  Flying into the largest island of Viti Levu guests are then transported to the hotel by a light aircraft…. landing in Pacific Harbour just a 30 minute speed boat transfer across the lagoon to paradise.
By Sea …
SAIL…
…AROUND THE BRITISH VIRGIN ISLANDS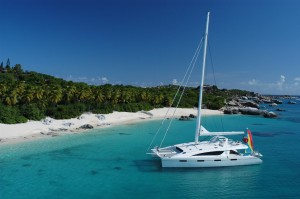 Whatever your sailing experience, The British Virgin Islands provide the perfect playground for those who love being on the water and most importantly sailing on beautiful boats!  With warm steady trade winds, millions of sheltered bays and beautiful white sandy beaches there is no other place in the world better set up for a holiday on the ocean.  Of the 60 islands which make up the BVI's, almost all of them are uninhabited, offering deserted beaches and vibrant underwater reefs… and adventurers dream!  This former pirates' haven now offers the perfect holiday destination.
SPEEDBOAT…
… TO GAYA ISLAND RESORT, BORNEO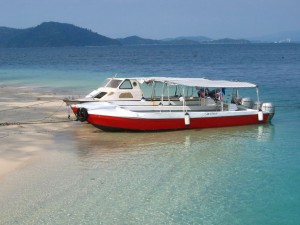 Borneo is renowned internationally for its natural beauty and stunning array of wildlife, namely the orangutans.  Gaya Island resort is located just off of the North West Coast is the island of Gaya, and just a 15 minute exhilarating speedboat ride from Borneo's capital Kota Kinabalu.   Your speedboat transfer whisks you across the South China Sea and onto the tranquil island of Pulau Gaya, home to Gaya Island resort.