Find out Turquoise Holidays' top 5 reasons to choose a New Zealand Family Holiday.
A geography lesson like no other
The landscape and scenery is incredibly varied and jaw-droppingly stunning. Beaches, lakes, mountains, glaciers, forests, farmland… another 'wow' emerges every few miles as you drive along the open road. Explore some of the 144 islands that make up the picturesque Bay of Islands; dig your own hot pool on Hot Water Beach in the Coromandel; marvel at the bubbling mud pools and exploding geysers in Rotorua; take a flight over the active marine volcano on White Island; watch the sea shoot skywards as it blasts through the West Coast's amazing Pancake Rocks; climb the immense tongues of ice at Fox and Franz Josef Glaciers; and cruise through the vast fiords of Doubtful and Milford Sounds.
Unique wildlife
New Zealand is home to a huge variety of wildlife, many of which are unique to the country. Spot kiwi, kea, kakapo, tui, tuataras, dolphins, whales, seals and wetas. And nothing here is deadly, unlike neighbouring Australia, except for a couple of spiders that are so rare they're almost mythical. Head to Wellington's Zealandia sanctuary and join a fascinating night tour in this vast conservation area. You might also spot the ancient tuatara, a reptile that rubbed shoulders with dinosaurs! Along the coast, you can see whales, seals, dolphins and penguins and, in the alpine regions of the South Island, watch out for the cheeky kea bird – known as the 'clown of the mountains'.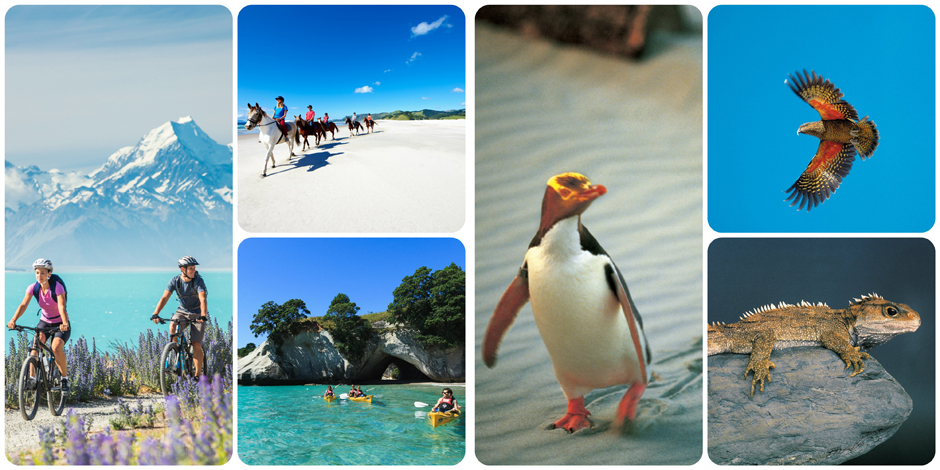 Activities galore
Whether you have toddlers, big kids or moody teenagers in tow, you'll soon put a smile on their faces with the sheer variety of activities available the length and breadth of the country, from sedate sailing to adrenalin-fuelled bungy jumping – and everything in between. If you can't do something in NZ, it's not worth doing! You're never far from a lake, a river or the sea when in New Zealand, so water-based activities are varied and plentiful. Swimming with dolphins in the Bay of Islands, Marlborough Sounds or Kaikoura is an incredible experience that youngsters and adults alike will never forget. Kaikoura is also famous for its wonderful whale watching trips. Those looking for an adrenaline rush will get their fix skimming rock faces and spinning 360° in a jet boat or riding the rapids in a white water raft. Families with young adventurers will love exploring Hobbit territory just outside Queenstown and letting the kids pretend to be Frodo on his big quest before paddling in Funyaks (inflatable canoes) through crystal clear water beneath spectacular mountains.
It's easy
There's no language barrier; Kiwis drive on the left; the roads are well-maintained and relatively traffic-free; there's a variety of accommodation to suit all budgets from family-friendly boltholes to super luxurious lodges; the food and wine is wonderful; and all this is topped off with the friendly, easy-going, smiling locals you'll encounter on your Kiwi adventure. It might be a long way to travel with kids, but we promise it's worth the effort for a family holiday of a lifetime. Consider stopping en route to break the journey and to add an extra element of excitement to the holiday. Travel via the golden shores of LA or the bright lights of Hong Kong or Singapore to inject a little fun on your journey to the other side of the world.
It's safe
Ranked as the world's 4th safest country, New Zealand offers a haven for families looking to explore in peace. According to the Institute for Economics and Peace, Iceland, Denmark and Austria are safer than NZ, but even those peaceful countries would have to agree that they don't offer quite the same level of sheer excitement, breathtaking scenery, award-winning wine, wonderfully varied accommodation and huge range of activities as New Zealand packs into its splendid shores.