Plastered over the newspapers and dominating segments of the evening News, the island of Borneo has been at the forefront of the Global News for the past couple of days thanks to the Royal Southeast Asian and Pacific Islands Tour. The Duke and Duchess of Cambridge have only just returned to the UK after having spent 9 nine days touring some of the most secretive and charming locations in the world.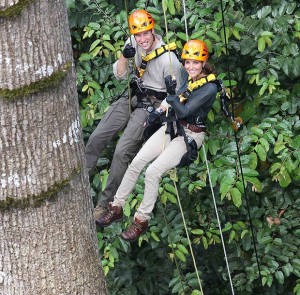 In celebration of the Queen's Diamond Jubilee, Prince William and Catherine began their tour in the exquisite city of Singapore. The couple visited the beautiful Botanic Gardens before retreating to the grand Raffles Hotel where they were greeted by a mass of people who'd be queuing for hours to catch a quick look at the Royals.
Having spent a few days in Singapore, the Duke and Duchess moved on to commence their tour of Malaysia. Greeted by the tranquillity of Borneo, the couple wasted no time in exploring the islands untouched rainforests. Keen to see more of their awe-inspiring surroundings, Prince William and Catherine were hoisted high up into the jungle treetops to gain a bird's eye view of this unique eco-system. Eager to catch a glimpse of the endangered orang-utans, the clouded leopards and the elephants that make this jungle their home, the couple crossed a series of typical Indiana Jones-style bridges in hope to witness these species up close however they were not fortunate enough to spot any of the tropical forest's elusive characters.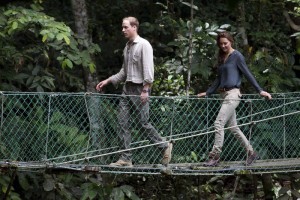 After leaving Borneo, Prince William and Catherine ended their tour with a visit to the Solomon Islands and the island nation of Tuvalu. Revelling in the excitement of the tour, the couple immersed themselves whole-heartedly in the island culture by engaging in a game of football with the locals and a traditional dance with some of the Tuvaluan performers.
Perhaps you're tempted by the Duke and Duchess' enviable tour of Southeast Asia and the Pacific Islands? Why not indulge in a trip to Borneo and experience the sights for yourself? Led by expert guides, discover the secrets hidden in the depths of the oldest rainforest in the world and be amazed by the prolific wildlife that inhabits this sensational landscape. Engage in similar activities as the Duke and Duchess of Cambridge and get lost in the beauty that so irresistibly graces the island.
Check outhttps://www.turquoiseholidays.co.uk/malaysia/holidayideas/suggested_itineraries/wild_borneo and start planning your Royal Tour today!