A great beach is at the top of many honeymoon and holiday wish lists, and with over 1,000 miles of South China Sea coastline, Vietnam offers a superb range of luxury resorts and destinations to rival anything in the Indian Ocean or the South Pacific.
My recent trip to Vietnam explored the best of its beaches, and began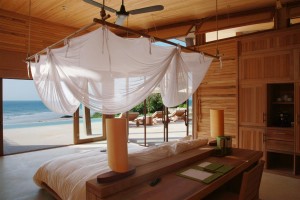 with a couple of nights at the luxurious Six Senses Resort on Con Dao Island, which is a short 45 minute flight from Saigon. Sweeping ocean views, a huge private pool and superb Vietnamese food was a great way to get over jet lag! Six Senses Con Dao offers just 44 luxurious villas – all of which have a private pool with a choice of being beach side or higher up with those stunning views. The island still has an untouched, remote and jungle feel – so it is great for getting off the beaten track and a perfect way to start or finish your trip to Vietnam.
Next stop was Nha Trang, located on a beautiful wide bay with stunning clear blue waters. As the brash and bustling city is dominated by high rise hotels and skyscrapers, we recommend getting away from it all at another Six Senses property on Ninh Vanh Bay. Arriving by speedboat is a great way to start your stay – and then enjoy a luxurious private villa, just steps from the beach, complete with a private pool and a huge outdoor bathroom.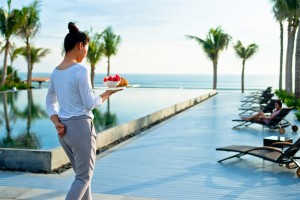 If you're looking for something a bit more than just sun, sea and sand – then our next destination of Hoi An fits the bill. The historic old town escaped the worst of the Vietnam war and now offers a charming mix of old Vietnamese, Chinese and Japanese influences – although it is probably most famous for the tailors that can make you a handmade suit at bargain prices. The town is just a few miles from some of the best beaches in the country – so base yourself at Fusion Maia – a luxury resort that includes 2 spa treatments every day, or the sophisticated Nam Hai which boasts an Olympic size swimming pool.