Many modern hotels which we see springing up around the world  portray a somewhat ostentatious image of 'luxury for luxury's sake'. Red carpets, gold taps and marble staircases, overpriced bottled water, caviar for breakfast and velvet wallpaper. Don't get me wrong, for some this is the epitome of the perfect holiday – a break away from normal life in a diamond encrusted world – and why not? If that suits your taste…
The Six Senses Laamu
For some however, the idea of having to get dressed up for dinner as if going to a black tie ball every evening is the furthest thing from holiday you can get. Those who like the sand between your toes, 'no shoes no news' type resorts, where breakfast rolls into lunch and the dress code for dinner is beach hair and flip flops. The most recent addition to the Six Senses portfolio, on Olhuveli Island in southern Laamu atoll of the Maldives, could be the perfect fit.
How to get there
Getting to the island is slightly less direct than some of those which lie in the northern atolls, but once there it is the only hotel for miles; a true escape from everyday life and well worth the short domestic flight from the main island of Male. Whatever time of day you arrive at the island, prepare to be stunned and your jaw to drop…this floating driftwood paradise could do nothing but please even the most seasoned of traveller, with its welcoming yet sophisticated atmosphere, authentic architecture and back to nature charm.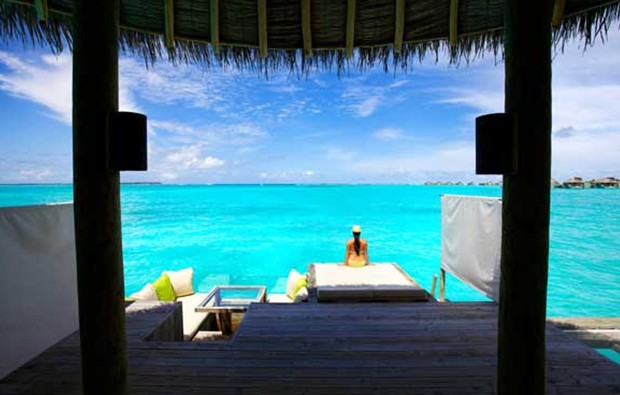 Each guest will be met by their personal GEM, a more informal 'butler' as it were, to be there for you should you need, and nowhere to be seen if not. After a brief tour of the resort and an induction to your overwater or beach bungalow… you may find yourself asking the question whether you are dreaming, or have you really arrived in paradise! The overwater bungalows are both spacious and comfortable, with plenty of cosy corners for a cold beer and shelter from the sun with a good book, as well as a large outside decking area for sun soaking and outside dining. It seems each wall hides the latest technology, hidden until exposed, should you wish to – accompanied by surround sound speakers both inside and out, so your holiday sound track can follow you wherever you choose to relax.
Although a bath is perhaps not everyone's go to on a hot tropical island, the bathtubs at Laamu are completely made of glass and face directly onto the ocean and beyond…and not an element of the room not to try at least once! Watch the marine life below, beyond and surrounding you as you wash the day away, and prepare for the evening ahead.
What to Eat at Laamu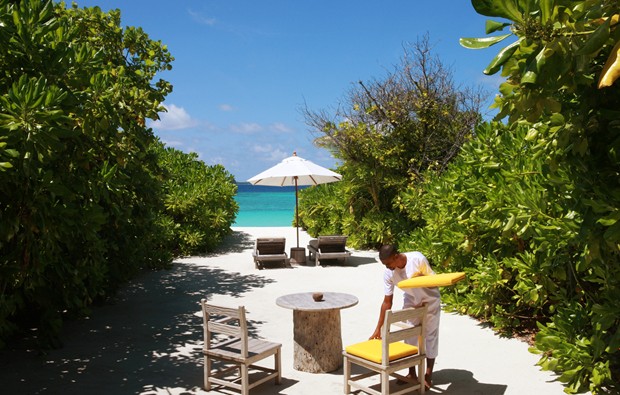 Dining options at Laamu are brilliant, eclectic and very reasonably priced. For those staying on a half board basis, breakfast and dinner are included in the resorts overwater Longitude restaurant. However, forget the image of repetitive buffet meals and slowly drying meats in large silver aluminium containers, the dinner is a la carte, from a menu so big, you could stay for two weeks and have a different three course dinner each night.  Contrary to most hotels, the most popular evening at Longitude is actually the once weekly buffet night following the manager's cocktail party, always themed and planned to perfection. Whether it is seafood, BBQ, local or internationally themed, the chefs never cease to amaze and you can't help but go up for seconds, and thirds…and fourths!
There is also a beachside dining option, Leaf, which offers Vietnamese cuisine at lunch and gourmet French cuisine at night, for a really special evening, or a slightly different environment, it is the perfect alternative. Cross an idyllic rope bridge to reach the restaurant entrance and take in the magnificent herb garden below, from which the resort grows the majority of their fresh produce…if you're lucky you may even bump into the head chef, who collects his daily ingredients by his personalised bicycle 'herbs on wheels'! Each room has two personalised bicycles parked outside the door, ready to unravel each corner of the island, complete with pads over the pedals to make for dreamy barefoot riding, baskets for beach bags and snorkels, and room number plates on the back so you won't get confused whose is who's after a few to many digestifs in the super cool Chilli Bar.
Personal Touches
It is the personal touches which really make Six Senses Laamu stand out from the crowd. There is no hovering over shoulders waiting to whisk away your empty glass as soon as the last sip is supped, no pressure to do or not to do anything, you are greeted by your name, not sir or madam, perfumed pouches of your choice are under the pillows on your return in the evening, small slippers are supplied for small feet…you name it they've thought of it…there are even urns of water along the walkways to cool toasted toes from the mid-day sun. Bliss.