With many destinations, your holiday begins from the moment you step into your resort or get out and about in the country you're visiting. However, with the Maldives, your experience begins a little earlier than that. When you land in Malé, the main international gateway to the Maldives, you still need to get to your paradise island. You could take a domestic flight or a speedboat but the most iconic transfer in the Maldives by far is the seaplane. Flying in one is an incredible experience in itself – here's why…
The Build-up
While waiting for your flight at Malé's seaplane terminal, you'll be relaxing in your resort's private seaplane lounge. It's more than just a place to wait, as the lounge itself is usually decorated in the same style and theme of the resort itself, so you really get a sense of place. There'll also be a buffet of delicious food and drink to enjoy (another sign of things to come). However, the biggest tip we can give you is to try and get a window seat in the lounge – the excitement will build as you get a front-seat view of the seaplanes taking off and landing on the water.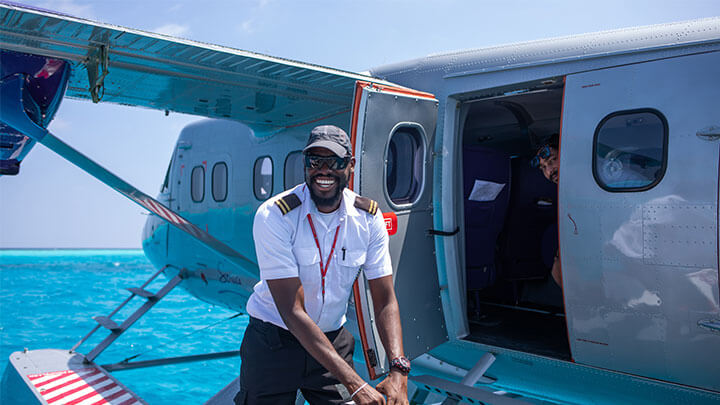 The Seaplane
Seaplanes are to the Maldives what yellow taxis are to New York City. You simply can't visit without spotting one. The seaplane you'll fly in will likely be one of Trans Maldivian Airways' 57 aircraft (some resorts do operate their own private seaplanes) – the world's largest fleet of seaplanes. Every one of them is a classic Canadian-built de Havilland Twin Otter seaplane, whose history dates back to the 1960s and has been flown in every different environment imaginable, from the freezing Arctic to the hottest deserts. Each seaplane is only capable of holding up to 15 passengers, so you're guaranteed an intimate experience.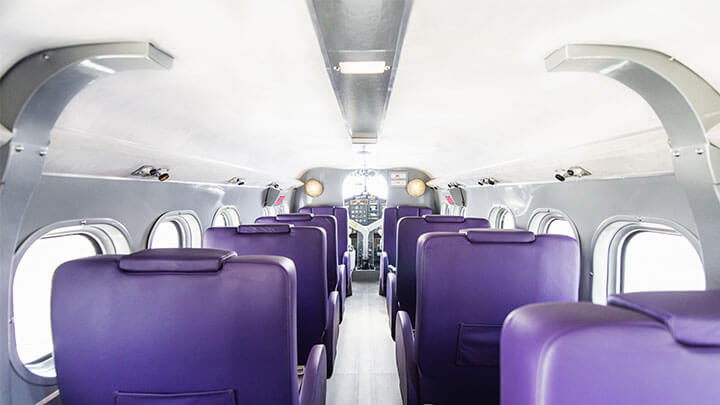 The Experience
A flight in a seaplane is unlike anything else. With seaplanes flying far lower than larger aircraft, a window seat is a must. We can guarantee you'll have your nose pressed against the glass from the moment you take off, as you'll want to soak up every second of this unique bird's-eye view of the Maldives. From above, you'll be able to spy the powder-soft sandbanks, kaleidoscopic coral reefs and lush green cores in incredible detail as they float in the deep blue of the Indian Ocean. The propellers might be noisy (you're given ear plugs to wear) but that's all part of the experience. The pilots even wear flip flops throughout the journey, which will only serve to heighten your excitement!