In the heart of the Indian Ocean, is the small but beautiful island of Mauritius. With incredible scenery, a secluded beach feel, warm weather and plenty of luxury resorts, it is no surprise that Mauritius is often considered to be a top pick for couples on their honeymoon. While the island is ideal for romance and intimacy, there is a lot more on offer in Mauritius. From outdoor recreations to exceptional cuisine, all kinds of visitors can have the time of their life in Mauritius.

Fishing Enthusiasts
Although it is easy to fish right from the shoreline all around the island, serious anglers are generally excited to charter a fishing vessel and head out to sea for a day of deep-sea fishing. Just a few of the game fish that you can catch off the coast include wahoo, yellowfin tuna and bonito. Off the western side of the island in a place called Le Morne, currents swirl in a distinctive fashion that attracts all kinds of fish, and it is there many fishing charters that head for half and whole day fishing excursions.
Foodie Travellers
If you love food, then you won't be disappointed in the exceptional cuisine found on the island. The cuisine is a melting pot of sorts, and there are major influences on local fare from China, India, Africa and even France. Plus, the international tourism means that there are both local and international restaurants serving up dishes at nearly every price point. You can dine on an octopus curry sandwich from a street vendor at lunch, have a slice of traditional French gateaux at midday with your coffee and then sit down to a full dinner of roasted boar with rice and vegetables.
Outdoor Activity Fans
While may visitors are happy to recline on the beach with a cocktail in hand on their holidays, other visitors are eager to pick a destination where they can get an adrenaline rush or try a new recreational activity outdoors. Thankfully, Mauritius offers plenty of options for outdoor excitement and activity, and the warm climate allows you to take part throughout the year. One popular option is to rent a quad bike and explore the nature park called Domaine Les Pailles, and others can choose to explore on horseback instead. Since most of the island is surrounded by a coral reef, there are countless scuba diving destinations where you can spot incredible and colourful underwater life. Additional outdoor activity options include kayaking, rock climbing, jet-skiing, skydiving and trekking to Black River Peak, which is the highest mountain on Mauritius.
Nightlife Seekers
While the nightlife scene is much smaller on Mauritius than it might be in a large urban area, it can still be exciting and vibrant for holiday-makers who look forward to late-night recreation. Grand Baie is arguably the nightlife capital on the island, and many younger single visitors head there and stay in one of the many nearby hotels and resorts. The Banana Beach Club is a popular place to start the night with a beer, and the location overlooks the water and offers a lively spot to hang out during the day and the night. After midnight, some of the best spots are Les Enfants Terribles, Stardancer and Buddha Bar.
Beach Lovers
If your version of the perfect holiday involves scouting out the best beaches and then spending all day soaking up the sun, Mauritius could be the ultimate destination for your next getaway. Whether you want long sprawling white-sand shorelines with amenities or secluded coves, this island has it all. Caudan Waterfront, close to the capital of Port Louis, offers a stretch of beach along with a bustling market and plenty of local shops and cafes. Slightly more touristy but just as scenic is the bay at Flic en Flac, which is within walking distance of many hotels and resorts. Grand Bay is a bustling resort beach area, and the specific beach called La Cuvette is truly breathtaking and often quite empty in the mornings.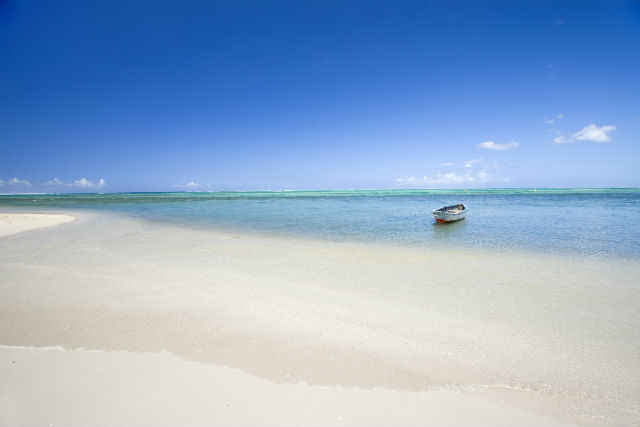 As you can see, Mauritius offers more than just a paradise for honeymooning couples. Whether you love fishing, nightlife, cuisine or anything in between, you can find something to explore on the island.