There is nowhere in the world that has turquoise lagoons as far as the eye can see and powdery sand beaches softer and whiter than the Maldives…
Excellent diving, laid-back island life and mouth-watering cuisine teamed with impeccable service are guaranteed throughout your idyllic island escape. After a recent journey of discovery to see some of our old favourites and new kids on the block, we caught up with our in-house Maldives expert extraordinaire Catherine, to hear all about one, very special, new island in particular…
It's hard not to fall head over heels in love at first sight when you arrive on the picture-perfect coral islands. This was my sixth trip to The Maldives and it was just as breathtaking as my first experience. There is a certain jene sais quoi about the Maldives that is full of charm… even the ocean surrounding the airport island is so inviting, you will feel like diving right in!
OZEN by Atmosphere at Maadhoo is a relatively new island which opened its doors on 15th July 2016. We arrived late in the day so we enjoyed watching the sunset from our speedboat ride across to the South Male Atoll. By the time we were close to the island it was dark, but the island looked gorgeous with all of the jetties and buildings lit up. We were given a very warm welcome by traditional Bodu Beru drummers and led to the reception area. The experience then continued with a glass of chilled Champagne, fresh strawberries and a foot bath & massage. We were going to like it here!
Feeling suitably relaxed we were quickly taken to our room, a stunning Earth Family Suite with Pool. There was a bottle of Champagne on ice waiting for us so we popped the cork and got ourselves ready for our dinner with the General Manager at Indoceylon restaurant. And what a treat that was – the dishes had been personally selected by our host and we enjoyed a wonderful, family-style Indian feast, washed down with Moet & Chandon Champagne and some fine red wine.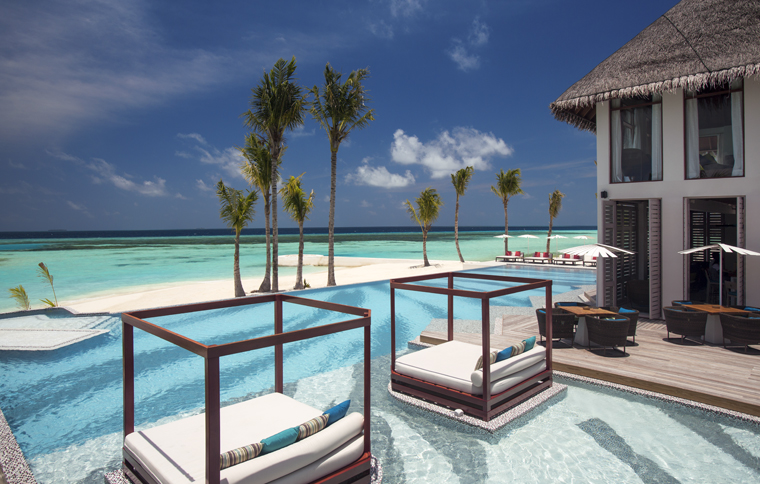 Which leads me on nicely to one of the key points about OZEN – its Pure Indulgence All Inclusive plan. There are very few All Inclusive options we have come across who are quite so generous with what is included. There are 5 superb restaurants to choose from – you can expect a sumptuous Champagne breakfast every day at The Palms, lunch time meals and snacks from The Palms or Joie de Vivre pool bar & pizzeria, and dinner from a choice of 4 restaurants including an exclusive underwater speciality restaurant which is included once per week. The all-inclusive drinks offering is just as impressive – you can enjoy Champagne (Moet & Taittinger at selected outlets), 15-18 year old whiskeys, international beers & lagers, 80 labels of wines from both the Old & New World and branded spirits. It is definitely an all-inclusive that shouldn't make you sneer; it is a bit of a treat not having to think about prices and where every little detail is taken care of!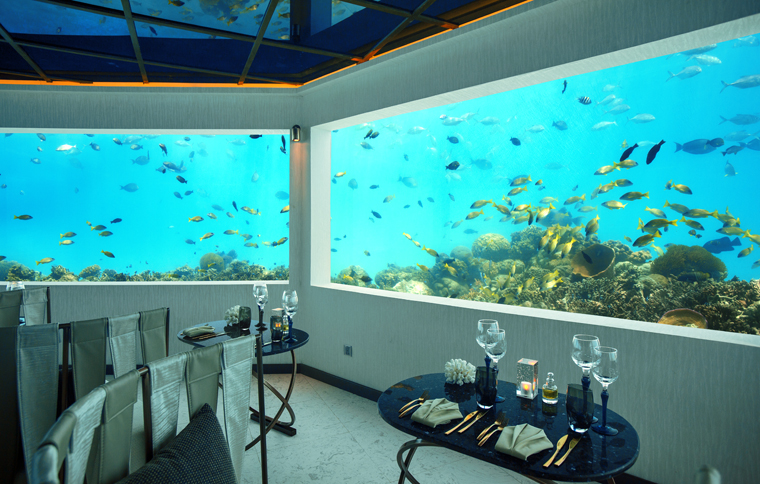 To counter all of the eating and drinking, there is a plethora of adrenaline packed activities to get involved with. Wakeboarding, flyboarding are just some of the of the water sports to take your hand at, along with 2 snorkelling excursions a day and a timetable of weekly activities that are included. For families there's a kids club with organised activities each day – there really is something for everyone. If relaxing in the spa is more your thing, the Elena Spa offers a wide range of therapies and spa services. Even better, depending on your length of stay you will receive at least one spa treatment per person, or if you would prefer this can be exchanged for a dive, providing you are PADI certified.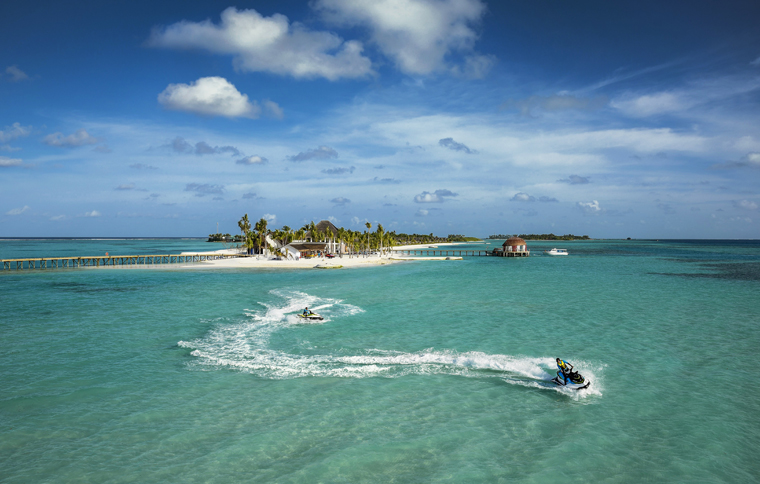 To cap off a wonderful visit, we had a real treat on our speedboat transfer back to the airport. It was a very hot and calm day so we'd retreated to the air conditioned cabin on the boat, only to be called outside. We were surrounded by, I would say, 40-50 dolphins, such an amazing experience and we enjoyed gently cruising along with them playing in our slipstream and generally being a bit nosey! In all of my travels, this has to be one of the most special moments of all and was a fantastic way to end our short but sweet visit to OZEN by Atmosphere.
Enjoy 2 free nights and a 10% early booking discount!