Wonderful Indonesia is an exotic land of beauty, mystery and ancient culture, comprising over 17,000 islands, and is the world's fourth most populous country. It shares borders with Malaysia, Singapore, Papua New Guinea, the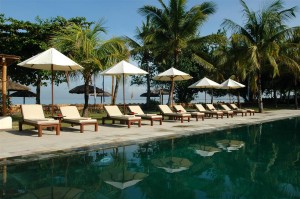 Philippines and Australia over its vast archipelago, which has been an important trade region since the 7th century. Its history has been largely influenced by foreign powers drawn to its natural wealth. Muslim traders brought Islam, and European powers fought one another to monopolise trade throughout the Age of Discovery. Across its many islands, Indonesia consists of distinct cultural, linguistic, and religious groups, all of which leave a specific thumbprint. The most well-known of all is perhaps Bali in the westernmost end of the Lesser Sunda Islands. Its name means 'offering' and it's the south of this mystical island that has the most to offer in terms of culture, clubbing, shopping, surfing or simply relaxation. Something of a backwater just a decade ago, Seminyak's clubs, bars, shops and restaurants are all very fashionable and funky and certainly a great place for honeymooners, not to mention the most popular destination in Bali. It also benefits from one of the best stretches of sand in the southwest – an expansive beach and rolling surf. Here, you can bargain with the gentle hawkers for a colourful kite or a piece of local art, or just lie back and soak up the rays while enjoying a $10 massage.
About 30 minutes' drive up the southwest coast is the holy temple of Tanah Lot: built on a rocky outcrop, it's only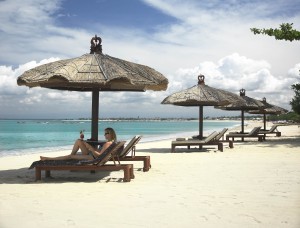 connected to the mainland at low tide and is the perfect place to view the sunset. On the south coast you'll find Jimbaran Puri Bali, a dreamy resort that feels like a traditional Balinese village with walled gardens and thatched roofs, but with a huge injection of modern f lair. When you walk into the lobby you're met by smiling faces and a great sense of calm. If you can stretch your budget, opt for a deluxe pool villa nestled behind and outdoor thatched dining pavilion perfect for intimate candlelit dinners. We slipped into f lower and sunshine filled days spent f loating in our pool or reading on our outside bale, only breaking the sanctuary for daily lunches and afternoon tea. One of our best discoveries was that some of the island's top (and cheapest) seafood shacks are just a five-minute walk along the beach, where you can enjoy the catch of the day, rice, fresh pineapple and a cool beer with your feet in the sand.