I have just returned from the most blissful, romantic escape to one of our most stunning Beach Houses courtesy of my dear husband who surprised me to celebrate our wedding anniversary.
Clifftops Retreat is one of those places that when I first visited, I really didn't want to leave as it ooz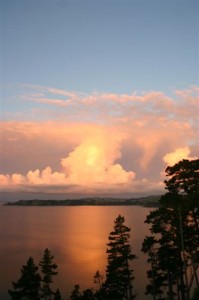 es style, sophistication and just jaw dropping vistas!!    The warmth and comfort of this 1100 sq ft luxury cottage just envelopes you as you enter, so much so you just want to kick off your shoes and curl up on the sofa with a glass of wine before deciding whether you should have a romantic shower in the glass walled bathroom overlooking the pond and private garden, or plunge into the spa pool set right on the cliff edge overlooking the ocean and glittering lights of Nelson beyond.
With its secluded 5 acres of park like gardens, this architecturally designed, modern cottage offers everything you need for a few nights escape – with its fully stocked kitchen, including local oils, herbs from the garden, plentiful breakfast provisions, the amazing nespresso machine for a  caffeine fix, as well the little touches such as fresh fruit and flowers and a chilled bottle of wine, to the full entertainment system with Sky TV, a CD & Video library and free Wi-Fi, and some first class restaurants only a short drive away.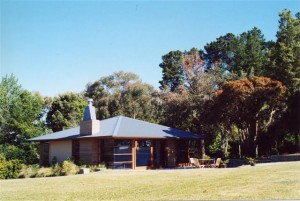 We hired a car from Nelson Airport and took the very scenic drive along the Coastal Highway passing through the picturesque and historic village of Mapua (spare time to grab a beer at The Golden Bear – a local brewery and highly recommended, before browsing some of the great art stores and shops such as Coolstore Gallery and Forest Fusion Art or enjoy a relaxing lunch at The Appleshed Restaurant perfectly positioned overlooking the water on Mapua Wharf.
On our arrival at Clifftops Retreat we were greeted very enthusiastically by the gorgeous Pebbles and Frankie (two beautiful Golden retrievers) along with their owners Bob and Anne Haswell.   Bob and Anne have over twenty years experience in the hospitality industry and Clifftops was  'born' from their knowledge of owning and running their own luxury lodge at Lake Rotoroa, and from their own experiences and needs from travelling the world.   They are the most hospitable of hosts – completely unobtrusive but at hand if you need anything.    Despite our reluctance to tear ourselves away from the 5 star comforts of the cottage, Anne's recommendation of seeing the Abel Tasman National Park was highly rewarded.   We spent the day with Rod Stuart (no not a typo nor the ageing rocker) but a very knowledgeable local who runs the best charters into the National Park.  We had an awesome day enjoying the amazing scenery, as well as spotting so many sea birds, seals and even a couple of orcas frolicking in the waters near the Park.  We returned to the cottage at Clifftops that night with a little colour in our cheeks, exhilarated and   amazed by what we'd seen and done that day and decided the perfect way to end it was a relaxing spa with a glass of wine watching the twinkling lights of Nelson in the distance and talk about planning our next trip here.