Thailand is such an interesting, sunshine filled, affordable destination that many couples have already visited before they tie the knot. This means it often slips behind more pricey, exclusive destinations, such as the Maldives, on the honeymoon wish list. If you're one of the 'been there', 'done that' crowd, think again: and if you've never visited this Far East hot spot, now could be the perfect time.
There's a reason trendsetters like Kate Moss head to Thailand so frequently: the local food is astonishing, the people are friendly, the skyline is dotted with temples and some of Thailand's best spa treatments in the world are available at tiny prices. With hundreds of islands to choose from, deciding where to go can be confusing. We've chosen three top getaways, which prove Thailand's hotels can compete with the best in the world and that it's so much more than a backpacker destination.
Six Senses – Yao Noi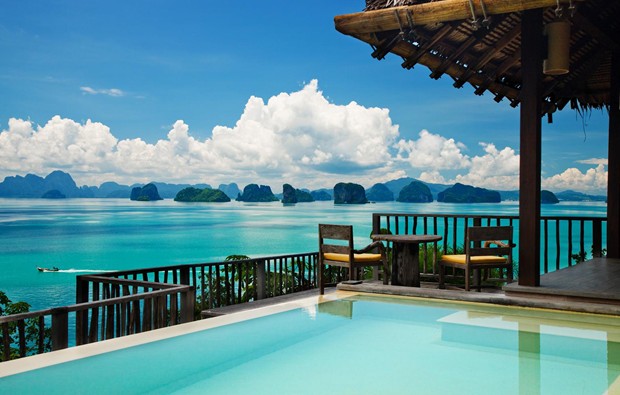 Six Senses Yao Noi lies on tranquil Koh Yao Noi in famous Phang Nga Bay in southern Thailand – you may recognise the needles of soaring limestone rocks as the backdrop in the James Bond movie The Man with the Golden Gun. You'll feel rather 007 yourself as you take in the view from your villa at sunset, when the sea and craggy hills turn a mellow shade of lilac. You'd think having your own exquisitely furnished villa would be enough, but no, the powers that be at Six Senses have added some touches to make your stay even more fabulous.
There's a wine fridge stocked with top notch vintages, a Bose sound system and an espresso machine. Over in the main house, there's a very cool split-level bar with bright blue cushions spread between the lily ponds, where you can enjoy snacking on satay chicken and prawn skewers from the Asian Tapas menu. For something more substantial, there's The Dining Room specialising in Italian fare, including a Chef's Table – a cooking station so you can watch the pros at work, and pavilions built among the mangroves for more intimate suppers. If you adore Thai food, head to The Living Room, next to the golden beach, which has more local inspired dishes.
Anantara Rasananda – Koh Phangan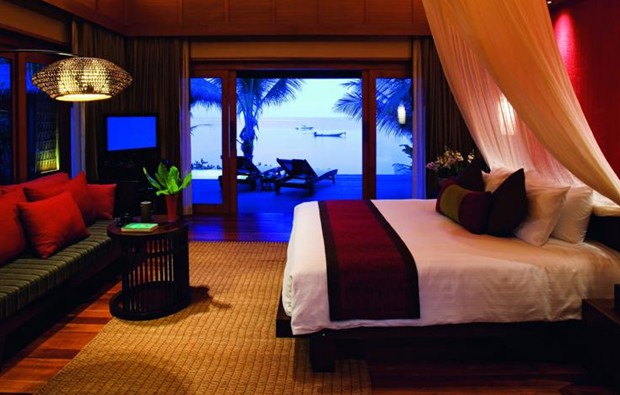 Our next Thai escape is small but perfectly formed. While Koh Phangan is known for its full-moon parties and lively bar scene, we discovered some areas where the beach life is much slower and more low-key. Rasananda is one such place – a lovely idyll on Thong Nai Pan Noi beach, far away from hedonistic gap-year gatherings and backpacker hostels. The 44 villas, spread along the whitesand, palm-backed beach, perfectly complement the relaxed setting. The ocean suites' huge terraces and private pool overlook the Gulf of Thailand. Inside, they boast beautiful Thai wood furniture and a surprising amount of mod cons: a DVD home theatre, a huge f lat-screen TV and an MP3 player, though none of these detracts from the serene atmosphere. Garden suites are similarly furnished but have a wooden gated entrance and are surrounded by high walls and tropical plants.
In the main resort there's the all important spa (try the Island Noni Experience for couples) and swanky restaurant, Bistro @ The Beach, where you can eat fancy food al fresco overlooking the bay. Life is very much centred around the beach here, with diving, snorkelling and kayaking ever popular but, if you're staying for a week or more, do try some of the other activities on offer: an elephant trek through the island's jungle interior is particularly fun.
The Racha – Koh Racha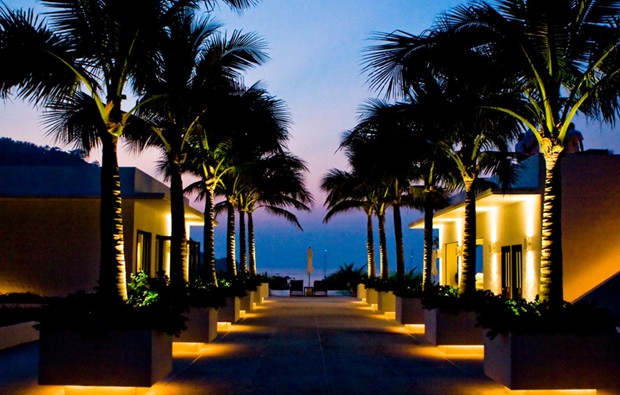 Most have heard of Phuket and Phangan, but few will have heard of beautiful Koh Racha, 12 miles south and a 35-minute speed boat ride from Phuket's Chalong Bay. Here lies The Racha, claiming to be Thailand's most exclusive resort and, after our visit, we have to conclude that they could be right. It's certainly one of the coolest. Spread along Batok Bay, the first thing that strikes you about this place is how white it is: sand, buildings and interiors are all dazzling shades of blanc. It's how you imagine heaven would look if it was styled by Elle Decor magazine.
Grand deluxe pool villas are modern and perfectly designed, with floor-to-ceiling windows that can be dragged to one side so you can make the most of the sea view and warm breezes from the comfort of your large bed. Switch on your iPod and do some laps of your infinity pool before curling up on the cushions of your outside sala. If you want to really push the boat out, you could stay in The Lighthouse, a five-storey villa in a converted lighthouse, complete with top-f loor observation tower with a 360-degree view of the island and sea. It's utterly decadent – there's even underwater music in your pool – and completely wonderful.
Aside from the rooms and Anumba Spa (huge, wide variety of treatments, excellent therapists) what really impressed us was the resort's environmental ethos. Chats with the management revealed that complete care was taken when building the resort, from the double-thick exterior walls which reduce the use of air conditioning, to the energy-saving lighting. Even the condensation from the air-conditioning system is used to fill the foot baths outside each villa. Architects were instructed to avoid cutting down trees, so you'll see palms appearing through villas and buildings. It's all rather heartening and, we must admit, makes your conscience feel a little clearer as you tuck into a seafood barbecue at the Sunset Beach restaurant or sip another brightly coloured cocktail at Club Del Mar, the resort's poolside hangout.
When to go to Thailand Islands
Thailand's islands have a tropical monsoon climate. Weather around the Andaman Sea and the Gulf of Thailand are opposite to each other – so in Europe's summer months it's best to head to the Gulf of Thailand (Samui, Phangan) and in the winter months to the Andaman Sea (Phuket, Racha).