At Turquoise Holidays, we're always scouring the globe for unique retreats, hidden away from the tourist crowd but still deliver quality and world-class hospitality. After a recent trip to, our Asia Product Manager Rachel found just that, stumbling across a hideaway beyond the usual Phuket and Koh Samui hotels that still oozes quality and warm Thai charm. Without further ado, we're delighted to introduce Paradee on the island of Koh Samet…
Paradee – Koh Samet

A tiny island just off the coast of Thailand, Paradee is ideal for those who don't want to connect onto an extra flight to reach paradise. To reach it, it's a two-and-a-half hour drive from Bangkok to the port of Rayong, followed by a 15-minute boat trip to Koh Samet. The island itself is idyllic, with a scattering of pure white shores lapped by a clear turquoise sea. The interior is hilly and covered in pristine jungle.
Paradee, part of Samed Resorts, is located on the tranquil Ao Kiew beach. This boutique resort, has just 40 Garden and Beach Front Villas, some of which come with pools. In the centre of the beach, the restaurant and main pool are a hub of activity, but most guests find their own hidden spot along the wide beach. Some relax on the deck of their Beach Front Villa, looking straight out to sea, while others prefer to chill on a sun lounger under the shade of a tree. Families kick a ball around on the beach, while others play cards and while away the time, feet in the sand and with a glass of something cold – bliss! The scene is perfect for those seeking peace and quiet, a true escape from the outside world. Though no beach in Thailand is private, you can only access Ao Kiew beach from the resort, so you pretty much have it to yourself!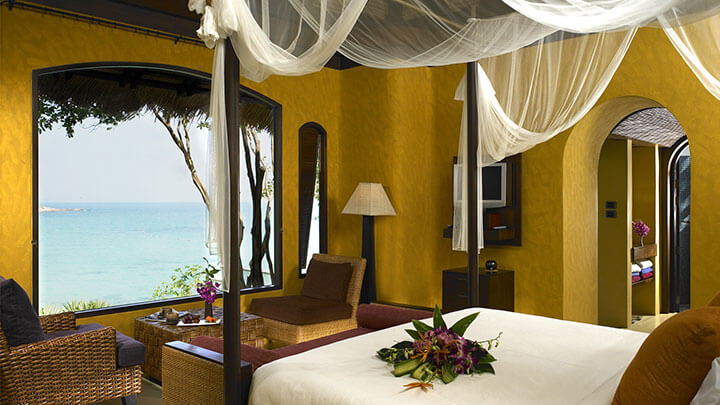 If you're after a livelier atmosphere, then Paradee probably isn't the resort for you. Sunset drinks and dinner on the beach are often on the agenda for the evening and by 9.30pm, most guests have retreated to their villas. Of course, if you want to sample some local life, Sai Kaew beach in the north of the island is a gorgeous beach with plenty of hotels, restaurants and bars with nightly fire shows and a vibrant atmosphere. A 25-minute taxi ride from Paradee, it is a bit of a journey but certainly doable for one of your nights on Koh Samet.
This resort is perfect for honeymooners and also welcomes families. While there's no kids' club, families who want to spend all of their time together will love the space and safety of the beach. It's ideally combined with a couple of nights in one of Bangkok's boutique hotels for a dose of sunshine in our winter!