Rasananda Koh Phangan Island
We felt like movie stars as soon as we boarded the speed boat over to Rasananda,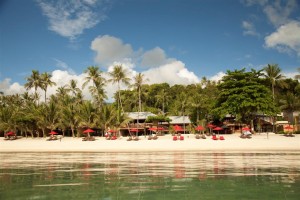 where smiling staff greeted us with chilled scented towels and refreshing ice-cold glasses of bubbly to ease the journey. Leaving Koh Samui behind, we settled into the 40-minute ride across to Koh Phangan, formerly a backpacker's playground and now home to the luxurious award winning Rasananda. Nearing the picture perfect bay that the resort calls home, we instantly knew we had found paradise.
The reception committee on the beach welcomed us like long-lost relatives then escorted us through the resort, past the all-too-tempting beachfront infinity pool and along a sandy path lined with sumptuous greenery and tropical f lowers to our Ocean Pool Villa. This is the crème de la crème of villas at Rasananda and with good reason – the combination of spacious open-air bathroom with a huge terrazzo tub, garden courtyard, pool terrace with steps down to the beach, huge sala day bed and exquisitely appointed air-conditioned bedroom come together to encompass a huge amount of space and various blissful environments. Only the very best in technology graces the villa in the shape of a flat-screen LCD TV, Apple TV, DVD with home theatre, a CD player and an iPod dock. In one way, this seemed a huge waste, because the only thing we really wanted to do was sit and enjoy the view. Lounging on the day bed, with a drink in hand, we watched as the world went by and were soothed by the sound of the sea caressing the beach, while the bright sunlight danced over the gentle turquoise water. The sensuous cooling ocean breeze was the final ecstasy – it all felt just too good to be true. On our last night we treated ourselves to a romantic private candlelit dinner on the terrace of our villa before slipping into our swimming costumes and sneaking into the sea for a lovely moonlit dip playing with the glowing phosphorescence in the water. We felt like kids again and toyed with the idea of extending our stay to revisit our youth at one of the full-moon parties that the island had first becomeknown for…