Friday 11th March and Saturday 12th March 2022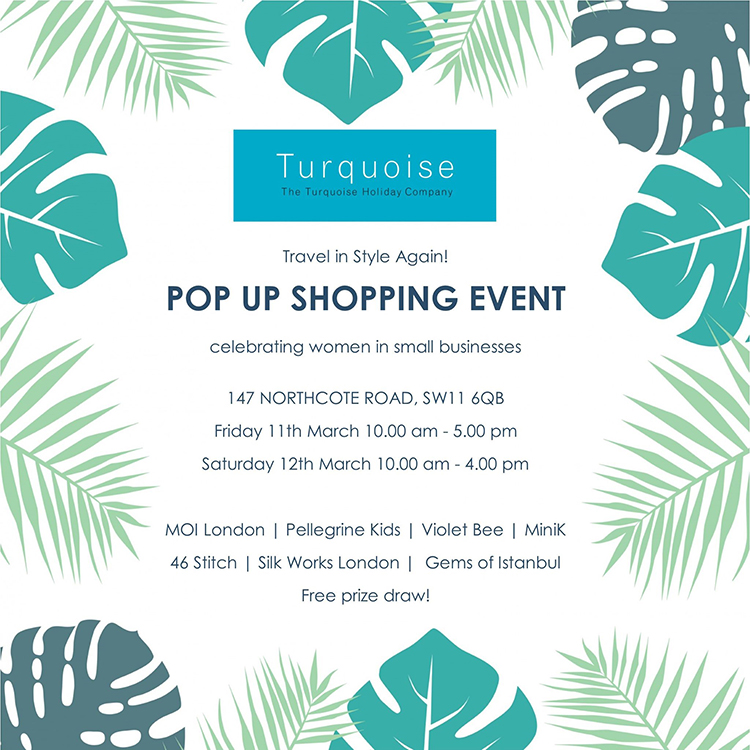 Get ready to celebrate International Women's Day and Mother's Day with an excuse to go shopping, buy presents for loved ones and plan for those long-awaited holidays, with a two-day shopping extravaganza of local small businesses and selected brands, all run by women, hosted by the lovely people at Turquoise Holidays – the luxury travel agent on Northcote Road, SW11.
The Shopping Event is themed "Travel in Style Again!"
The event will take place at Turquoise Holidays
146-147 Northcote Road, London SW11 6QB
On Friday 11th March 10-5pm and Saturday 12th March 10am-4pm.
Travel in Style Again!
People want to escape and holiday bookings have seen a surge with the easing of travel restrictions. According to Turquoise's data, enquiries are at record highs and up over 30% on last year with high demand for short term departures.  40% of bookings are departing within 12 weeks.
Popular destinations include: Mauritius, Maldives and The Seychelles together with The Caribbean, and there is also strong demand for other destinations including Sri Lanka and The South Pacific.
THE BRANDS SHOWCASED ARE:
PRIZE DRAW
Each customer will have the chance to win a Turquoise Holidays Goodie Bag, including prizes from all the brands mentioned.
HOW DID THIS POP UP ORGINIATE?
Our "Travel in Style" pop-up has been carefully curated by a collaboration by the teams of Violet Bee (www.violetbee.co.uk) Burcu, Ipek, Emily and Camila, and the sister team Amelia and Clemmie of Pellegrine Recycled Kids Belts (www.pellegrine.co.uk).  Both brands met at a Christmas Fair last year and bonded over their passion for sustainability and supporting women in business and wanted to create the ultimate shopping event for Northcote Road.  James Bell at Turquoise Holidays loves both brands and the team at Turquoise are excited to host and showcase the "Travel in Style Again!" event.
James Bell, CEO of Turquoise Holidays, said,
'We are thrilled to throw open our doors to the local community and local small businesses after what has been a crazy time for everyone…  We look forward to welcoming everyone at our Turquoise home on Northcote Road with a two-day shopping extravaganza with the chance to meet friends, gather together, support local businesses, bring friends, buy, and travel again!'
Camila Forrero, co-founder of Violet Bee, said, "We are thrilled to be partnering with Turquoise and Pellegrine to run our very first pop-up. It is an exciting time now that people can start travelling more easily and more sustainably with the options available in the market. Our recycled T-shirts provide great comfort and designs to spice up your holidays, while helping to tackle the waste problem on Earth."
Amelia and Clemmie, founders of Pellegrine, say, "Pellegrine are super excited by our collaboration with Turquoise Holidays and Violet Bee.  We have carefully picked some incredible brands to create the ultimate shopping event, preparing customers to Holiday in Style Again, and provide gifts for Mother's Day and International Women's Day. We are super grateful to the team at Turquoise Holidays in hosting the event in their lovely space."
BRIEF DESCRIPTION OF THE BRANDS
About Violet Bee
Launched in 2020 by four female founders, Violet Bee is a sustainable fashion brand aiming to spread positivity and empower women. Its debut collection comprises of T-shirts that are made from recycled plastic bottles and waste organic cotton. The brand has also launched a customisable #FutureArtist collection to celebrate Mothers' Day by printing their children's drawings onto mummy's shirts.
Violet Bee is a proud supporter for Trees for Cities, via Work for Good, making a donation from every sale.
About Pellegrine
Pellegrine is run by sister team, Amelia and Clemmie, who wanted to create colourful belts for their own children and spotted a huge gap in the market for.  Our belts are each made from 3 recycled plastic bottles, saving those bottles from ending up in the sea or in landfills. The belts are soft, stretchy, and easy to wear.  For each sale, a donation is given to The Marine Conservation Society, via Work for Good, who do fantastic beach clean ups.
About 46Stitch
Unique, limited edition, versatile detachable collars handmade using fabric remnants from Delhi and eco-friendly knits made in small batches from stock yarns. Lovely when worn separately but incredible when worn together.
About Silk Works London
Founded by sisters Laura & Lydia, Silk Works London is a contemporary wellbeing brand known for their carefully crafted collection of pure mulberry silk pillowcases, scrunchies & accessories dedicated to beautiful hair & skin.
"With our Persian heritage blessing (well let's face it mostly cursing) us with thick curly hair, we grew up with the conversation of 'frizz' becoming an almost daily obsession. Our grandmother always swore by sleeping on a silk pillowcase as her secret weapon to anti-ageing and healthy locks which naturally fuelled our interest into how this could possibly happen and what makes the material so special."
About MiniK
MiniK is a children's non-slip shoe brand which was inspired by kid's world to help them feel safe, fashionable, and independent throughout their discovery play. MiniK came to life with slogan "Safe Kids, Happy Parents". Having supported thousands of little feet to make their steps safe and protected with multi-purpose products indoors and outdoors.
About MOI London
MOI London evokes memories of your favorite shoes from the past with a modern twist to classic Mary Janes. All MOI London shoes are handcrafted in Istanbul and each item is a unique display of craftsmanship, each has their own character that is to be admired. MOI London shoes are for all women who love soft comfy footwear while adding an elegant touch to their daily outfits. Unlike fast fashion, they are not mass produced and there are fewer of them, so MOI London shoes you're wearing are as unique as you are.
Versatile | Timeless | Elegant | Stylish | Comfortable | Handcrafted
#WearLoveWhereverYouGo​
About Gems of Istanbul
Gems of Istanbul, which was founded in Dubai as a mini boutique stall, offers a variety of handpicked jewellery and accessories that reflect the vibrant and eclectic feel of Istanbul. The collection is regularly updated to include trendy, easy to wear and combine pieces.