For a lot of families, the thought of travelling on a long haul flight with young children in tow isn't exactly ideal so somewhere closer to home is far more appealing. I've just returned from a week in Dubai and it's completely perfect for the school holiday breaks – it's only 6 and half hours away from the UK and there is only a 3 hour time difference.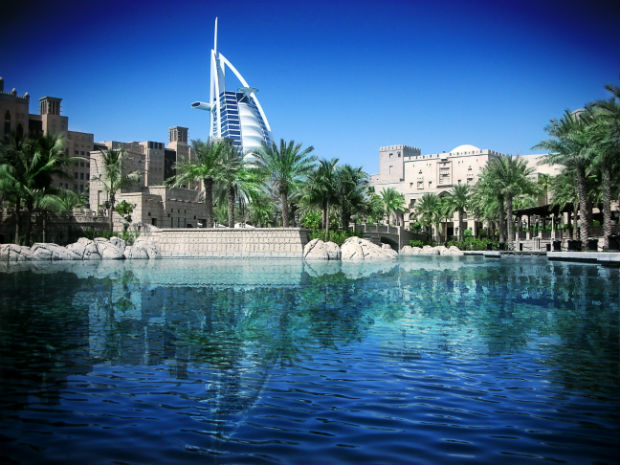 When it comes to family holidays make sure you pick the right time to go as it can get extremely hot in our summer months and little ones may not like this at all. The temperature can easily get up to the late 40 degree mark but during winter and spring it is much more bearable with figures closer to 35-40 degrees. I found it very amusing when I asked one of the hoteliers when they last had rain and they thought long and hard and simply said…." back in January I think"!
Top 5 things for a family to do in Dubai
Wild Wadi Water Park
Not to be missed, even for the grownups! Located on Jumeirah Beach about 15 minutes by car from the downtown area this is an action packed day out. Including 5 knuckle biting water slides, racing slides, water guns and rapids for everyone to enjoy together, really makes this park in the top list of places to visit.
Address: Jumeirah Rd – Dubai  United Arab Emirates
Telephone: +971 4 348 4444
www.jumeirah.com/en/hotels-resorts/dubai/wild-wadi/
Dubai Mall
So much more that the world's largest shopping Mall! Inside this impressive building is the Aquarium and underwater zoo. There are floor to ceiling glass walls where you can watch sharks, stingrays and other species. As well as the aquarium there is KidZania where children can go and live out their dream career – models, pilots, astronauts, firemen etc are just some of the roles that the children can dress up as and 'go to work'.
Address: Doha St – Dubai  United Arab Emirates
Telephone: +971 4 362 7500
www.thedubaimall.com/en/Index.aspx
Dubai Fountains
At night time these are spectacular. Based along on the same design as the famous fountains in Vegas the shows are put on every night with music and clever lighting. Everyone gathers around the edges to watch the amazing show that takes place every 30 minutes.
Indoor Ski Doom
A little bizarre considering you're in the Middle East! From beginners to future Olympians everyone can come and spend a few hours here. Be it skiing or snowboarding there are experts on hand who can teach you or why not go on a few toboggan runs? Little touches like snow falls just add to the magical experience.
Mall of Emirates – Dubai  United Arab Emirates
+971 4 409 4000
www.theplaymania.com/skidubai
Burj Kalifa viewing deck
Only if you have a head for heights! This is the world's tallest building reaching an awesome height of 830 metres and on the 124 floor there is a viewing deck. Head up here and you will have the most breathtaking views across the city's sky line.
Address: Emaar Blvd – Dubai – United Arab Emirates
Phone:+971 4 888 8124
www.burjkhalifa.ae/en/
Dubai really is perfect for families who want to head away to a week of sunshine without a long flight and there is just so much on offer to keep everyone entertained.