It's hard to beat the exhilaration of an African safari, be it in South Africa, Botswana, Kenya or Tanzania ….but just imagine returning from a thrilling game drive and preparing yourself for a night under the stars in the African bush. Many camps and lodges offer the chance for families and couples alike to spend an unforgettable moonlit night in a specially designed bush 'sleep-out', which can take a variety of forms from a unique treehouse to an elevated platform reached by a few wooden stairs. A hot bucket shower will hang from a tree and paraffin lamps will be set out beside your net-draped bed. You'll drift off to sleep to the sound of elephants trumpeting, lions calling and hyenas howling ….and nothing quite compares with waking to an African dawn and watching the sun slowly rise over the wilderness. After your night under the stars, you can return to your safari haven (usually never more than a few kilometres away) and plan your next game drive or perhaps an indulgent spa treatment…..once-in-a-lifetime experiences surely don't get much more memorable than this!
Some of our favourite African 'sleep-out's include :
Loisaba, Kenya
Set in Kenya's northern Laikipia region, this 61,000 acre private ranch and game sanctuary is famous for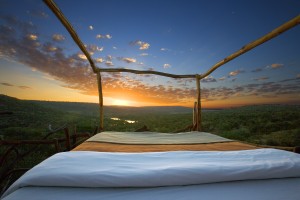 its two sets of unique Star Beds – handcrafted raised wooden platforms, dramatically designed and made by the local Laikipiak Maasai community. The net-covered four posters – or 'Mukokoteni' – have been constructed on wheels and can either be left under the thatched roof or wheeled out on to the open deck for a night under the stars. The Star Beds can be reached on foot, on horseback, by camel or via vehicle and what makes this experience even more special is that you will be hosted by a team of traditional Samburu and Laikipiak Maasai warriors.
Tswalu Kalahari, South Africa
Loc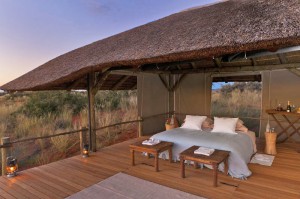 ated in the Southern Kalahari, this is South Africa's largest private game reserve. It is malaria-free and is easily accessible from both Johannesburg and Cape Town. Safari takes on a whole new meaning here! The experience is all about gourmet bush dining with superb wine, sundowners, dune picnics, horse riding, spa treatments and star gazing – but the highlight of any visit has to be the luxurious sleep-out deck – The Malori (meaning 'dreamer' in Tswana) which has been stunningly built to maximise the exquisite surroundings. Your chef will prepare dinner whilst you admire one of the Kalahari's incomparable sunsets!
Makanyane, South Africa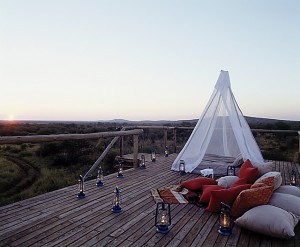 Perfect for honeymooners, Makanyane Safari Lodge, in the malaria-free Madikwe Game Reserve (a short flight from Johannesburg) offers romantic couples the chance for a night under Africa's stars at its unique overnight 'hide' which overlooks a waterhole deep in the bush. A bed draped with a mosquito net will be set up on the upper deck and staff will make sure you are fully prepared with wine, nibbles, a torch and an all-important two-way radio!
Garonga, South Africa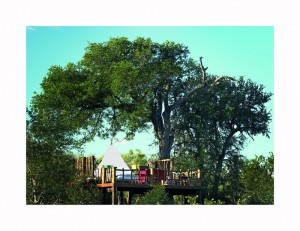 Garonga is one of our favourite tented safari camps in South Africa, renowned for its intimate ambience. It boasts just six tented suites with a relaxing hammock on your private wooden deck. Charismatic owner, Bernie, maintains a holistic philosophy distinctly different from other safari lodges in South Africa. At Garonga, the clocks are set to your time-scale – relax, snooze in your hammock overlooking the bush, daydream, feast on fabulous food and enjoy a 'sleep-out' in a treehouse under the African stars! Garonga also offers the chance for a romantic piping hot candlelit bush bath with your choice of oils under the starlit sky!