I have just returned from a short but very sweet trip to Tahiti and her islands. Although It's a long journey, that can seem daunting at first, I always feel that if it's difficult to get to a destination… then there's usually something special at the other end! I visited four different islands during my trip; Moorea, Ta'haa, Rangiroa and of course, Bora Bora – all of which are so different from each other.
The place to stay in Tahiti and her islands
A real French Polynesian experience and the highlight of my trip has to be our stay at Vahine Private Island Resort. Located just off the coast of Ta'haa island, with fabulous views of Bora Bora on the horizon, it really is a true Robinson Crusoe experience. With only 9 villas in total, a mix of beach and overwater bungalows, the resort is small and intimate, very private and extremely quiet! The centre point for the resort is the restaurant and bar area which are great social spots to relax, and a great way to get to know the other guests and the resort staff. Everybody knows everybody's name, so you really do feel at home as soon as you arrive. Vahine is a foodies paradise – but not for fussy eaters. There is just one restaurant serving a different set menu each day, which may seem limited in comparison with other resorts, but it was by far the best, freshest food I ate during my trip. The island is utterly romantic and perfect for couples and honeymooners. Although totally remote in its style, if you want to explore the surrounding area, Ta'haa Island is only a short boat ride away – a beautiful and mountainous island, famed for its vanilla!
Getting there: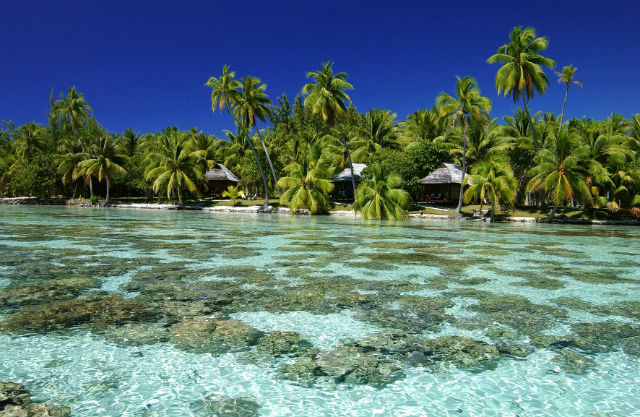 Our journey to Ta'haa Island itself was an amazing experience, as we were lucky enough to arrive by private yacht, with Tahiti Yacht Charter. There is nothing quite like the stark contrast between the shallow crystal clear waters of the lagoons and the deep midnight blue of the ocean – and no better way to experience the views than by boat! Sailing is the perfect way to see and explore the Society Islands as you can reach areas undiscovered by tourists… ideal for snorkelling and diving enthusiasts. On deck is the place to totally relax and unwind, taking in the surrounding scenery and enjoying a well deserved glass of champagne!