Well there was only one thing missing for me at NIYAMA . . .  and that was my boyfriend!  The Maldives are definitely a very romantic destination and are the choice for many couples in search of beautiful beaches, perfect blue warm water and a place to simply relax and chill out.  However, I chose to stay for a week at NIYAMA on my own to give me some time to recharge my batteries, read a pile of books, swim, walk on the beach and have plenty of me time.   And it was certainly a great place to do that too.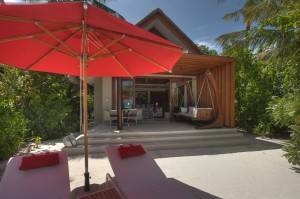 Nothing like a seaplane arrival to make you feel really special and the flight over from Male was spectacular with great views of the reef and islands.  We were greeted by a bunch of the friendly staff and some delicious fresh fruit cocktails, then whisked by buggy to our rooms.  I was staying in a Beach Studio which was gorgeous and really well laid out with plenty of space to unpack and hide away your luggage.  The bed was enormous, especially for one (!), but super comfortable and there was also a chaise to lounge on for a spot of movie watching on the big TV screen.  I loved the outdoor bathroom – really well appointed, big fluffy towels, his and hers sinks (I used both!), a good supply of REN products and a choice of 2 showers.  But the best thing about the room was that within a few paces of my deck, I could be on the white sand then in the amazing opalesque sea.  The Beach Studios are built to give you your privacy and I simply loved idling away my days on my lounger basking in the sunshine or snoozing on my daybed swing.  Of course, if you prefer the pool, there is a magnificent drop off pool to recline by in the resort hub with plenty of loungers decked with plumped up cushions.  The Dune bar poolside is a great place for a sun downer cocktail and also served well priced lunch options.  You also get to enjoy morning and afternoon treats whilst lazing by the pool like chilled fruit on a stick and bottled water is provided and kept chilled for you in an ice bucket.  It's the little details that make you feel special.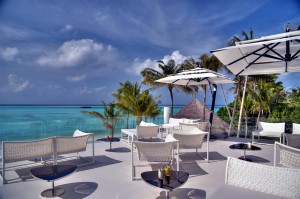 Dining options were great – from grabbing a well-priced sandwich and smoothie from the Deli to absolute fine dining at the exclusive overwater restaurant and lounge, Edge.  Watch out it is a rather pricey but the food is incredible.  I really loved Tribal – al fresco dining in a contemporary African restaurant with open air kitchen.  This is definitely a favourite for meat eaters and it had a magical atmosphere.  I was on a half board package , which included breakfast and dinner daily in Epicure, but you can dine in any of the other restaurants and get a percentage off the bill if you want to dine around.  The food in Epicure was great; it is a large space and offers a glamorous buffet style dining option as well as an A La Carte menu. Breakfast was amazing with such a great selection and the dessert corner each evening was like a piece of edible art!  And, if you are keen for some after dinner action, the bar above Epicure offers a sophisticated feel or you can sit out on the deck counting the stars.  I did make it to the amazing Subsix one night – an awesome experience dancing under the ocean and watching the marine life swim by!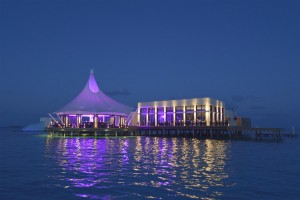 There is definitely enough to keep you busy if you want with different excursions, amazing snorkelling, games rooms, wonderful treatments at the Lime Spa and a very well appointed gym called Pump.  My daily routine had me up early on the cross-trainer in Pump, followed by a swim in the pool, a walk on the beach and a daily dip in the sea, all before breakfast! The rest of the day took a much slower pace and I enjoyed several wonderfully relaxing visits to the spa; went out snorkelling a few times but mostly enjoyed relaxing with a stunning view and plenty of dips in the sea and walks along the beach collecting shells.
For me NIYAMA was a perfect choice – plenty to do if you want it, a great contemporary modern vibe, but also the option to chill out in your space too.  Would I go back on own – yes, I would, but I'd rather my boyfriend came too next time!
Written by Jane Nicholson, Tourism Queensland