Yummy Mummy Kate King reviews her family holiday in the Maldives at Constance Moofushi:
When we told friends we were off to the Maldives we were greeted with delight of oh's and ah's – instantly followed by a pause, then 'who are you leaving the kids with?' People thought we were mad when we said that we were taking our 2 year old and 6 month old with us, so much so that as we got closer to departure I too thought we were slightly insane going on a family holiday to a destination better known for attracting honeymoon couples.
The flight was the first hurdle – I convinced myself that if we could get through that we would be just fine. A month prior to going we made sure our 2 year old was a suitable Peppa Pig addict, along with a mini rucksack of surprises (etch-a-sketch, stickers, books, colouring pens) to open gradually throughout the flight. Emirates were brilliant, we had a seat in between us for our toddler and a bassinet for the baby, the crew couldn't have done enough to make sure we were all okay and dished out cuddly toys and more colouring paraphernalia for Molly. The delivery of meals delighted her (as long as we hid the pudding first!) and she ate very well considering it wasn't the norm. We changed at Dubai, but with only a 2 hour wait it gave us all chance to stretch our legs and whilst some may argue that a direct flight would have been better I certainly feel it broke the monotony of the flight up a bit.
On arrival in to Male we were greeted by our hotel representative who assisted with a seamless transfer to their private sea plane lounge, and we only had a short wait before hopping on the sea plane, which again was much more bearable than originally thought. I had thought it would be too loud for the children but my 6 month old instantly fell asleep and Molly marvelled at all the boats and islands she could spot out of the window.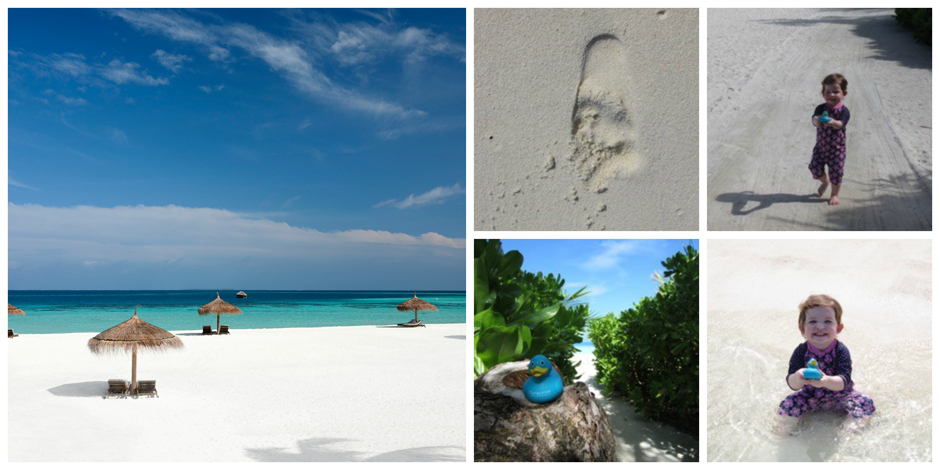 On arrival at Constance Moofushi we couldn't have been made to feel more welcome, the children were greeted with handmade gifts, and the grown-ups a much needed cooling juice before being taken to our beach villa (perfect for families rather than the elevated water villas). The villa had been stocked with buckets and spades, baby bath, cots and bedding, nappy bin and even a buggy, all of which saved on packing for us. I don't need to go into detail about how relaxing and idyllic a Maldivian island is – after all its what they are best known for but what was really incredible was how accommodating all the staff were of the children – I guess as its predominately couples or honeymoon destination it made a nice change for the staff to have little people to entertain.
Meals times were perfect! Partially due to the buffet style dinning but also as we were able to have dinner for Molly brought to the villa for 5pm, she was able to eat at her usual meal time and as we had just started weaning our little boy the chef kindly offered to puree fruit and veg from him as required, it couldn't have worked out better. We arranged a babysitter for a few nights, who simply sat on the deck while the children were fast asleep in the room, but mostly they joined us for dinner and had a slightly later night – which in turn meant a slightly later rise the following morning – a welcome bonus for mum and dad!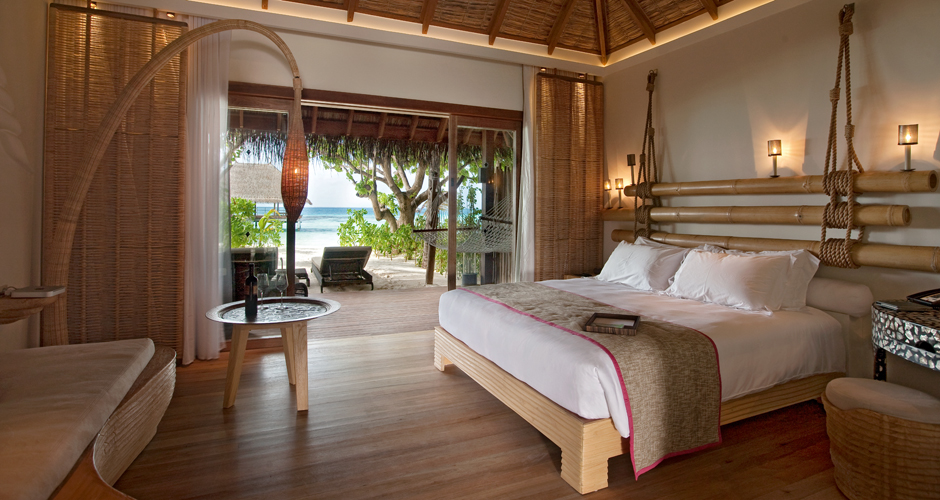 The beach is ideal for toddlers as the water is so shallow, and as warm as a bath, with plenty of fish coming up to the shoreline Molly was constantly enthralled by what she could see swimming around in the water. She loved paddling and splashing and Molly's confidence grew thoughout the holiday which was great to see. She also really engaged with the birds and insects in the gardens, showing a keen interest and creeping around so not to scare them away.
We had a super family holiday and we continue to talk about it and remind Molly of the time we had, she loves looking over the photos and remembering the different activities we did. The holiday was 100 times more relaxing than I ever imagined and the flight was overall pretty good, considering we were going such a long way. There was plenty of other families on board which reassured me that we weren't completely mad for traveling with babies! We would definitely do a long haul family holiday again, although with number 3 on the way we may leave it a couple of years!
To find out more on Constance Moofushi, call our expert team on 01494 678 400 or view latest offers here >>