Set in 140 acres of lucious and beautiful countryside, reachable only by boat or helicopter, the Biras Creek Resort is a truly special place. Set on its own stretch of the British Virgin Islands, it is the perfect location for a tranquil Caribbean holiday. The Turquoise Holidays blog caught up with the General Manager of the resort, Craig Stolzenfels, to find out more.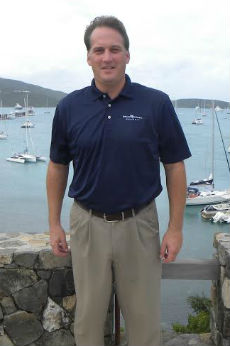 How long have you been General Manager at the hotel?
October 14th, 2012
If you could sum up the hotel in three words, what would they be?
Couples' Barefoot Luxury
The accommodation at the hotel looks stunning; could you tell us a bit about the style of the property, and where that inspiration came from
Our most recent inspiration during the renovations to our rooms was to keep the Caribbean authenticity intact. We were able to add some special details to the room without disrupting the true Caribbean feel that our guests experience. The property was originally built by a Norwegian shipping company and opened in 1973. The majority of our rooms are only a few feet to the ocean's edge.
Do you get to know the guests that come and stay with you at the hotel?
I typically meet every guest on property at our cocktail, and I speak to nearly every guest a few times per week.
Which is your favourite restaurant? Do you have a favourite dish?
Hilltop Restaurant has a view of 3 distinct bodies of water. My favourite dish is Chef Monk's Fresh Blackened Red Snapper.
Do you tend to have a lot of repeat guests coming back to the hotel every year?
Some months up to 50% of our guests are repeat guests.
Which is your favourite excursion on offer to the guests at the hotel?
Our complimentary snorkel trips with Wayne are incredible.
Finally – would you say the hotel is more suited to couples, or families? Or both?
Couples