I recently went to Malaysia with my fifteen year old son, with no idea of the treat that was in store for us. We flew courtesy of Turquoise Holidays and, although it is a long trip, it was one of the first joys of the holiday. My son is passionate about flying and wants to be a pilot – so he relished every moment of the flight, the staff (and indeed the cloud formations during the electric storm!!).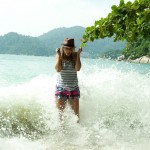 We stayed at the YTL Pangor Laut and Tanjong Jara luxury resorts. They describe themselves as "sanctuaries of luxury… well-being steeped in the unmistakable grace of age-old Malay traditions" – and indeed they are.
We had beautiful palatial rooms,  and spent our days on boat trips, snorkelling, swimming, playing tennis, drinking guava juice and eating gorgeous food.
This was hugely appreciated by my usually fussy son who now can add chicken satay and prawn and coconut curry to his usual diet of bbq flavoured pringles . The Malaysian hospitality is second to none. They seem to be the loveliest, most beautiful, hospitable, gentle, courteous people on earth. We could not have been made to feel more special.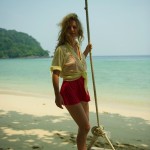 The most memorable thing – certainly for my son – was the massage. We not only indulged in several intense head and back massage treatments – I also decided to learn how to inflict massage on others. My poor son was compelled to volunteer as my "massagee".
His conclusion was that it was a form of child battering – like being machine-gunned him with ping pong balls – which at least allowed him to appreciate the professionals.
We also learned to cook Malaysian food with chefs at both resorts. We caught our own fish and cooked outside beneath the palm trees with the turquoise water virtually lapping at our feet. This has become my favourite food to cook in Britain – but it tastes rather different looking out at traffic through drizzling rain.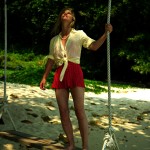 Even when it rained in Malaysia – as it did occasionally – it was thrillingly dramatic. My son and I enjoyed a spectacular meal in a beach-side pagoda in a palm grove, as monsoon rain hit the ground and bounced back up towards the coconuts.
Holidaying with a teenager these days – however beautiful the location – is usually and appallingly as dominated by screens as life at home.
A tribute to Malaysia was that the i-pad and the i-phones were left idle – and the majority of our screen-watching took place on the planes.