Bora Bora. One of the most iconic destinations in the world. This infamous idyll is a honeymoon dream, a once in a lifetime bucket-list goal, an extraordinary family holiday… whatever your reason for setting Bora Bora in your sights, you can be sure that it won't disappoint! We know from experience that those blues and greens are even better in real life than they are in print.
Bora Bora is synonymous with overwater bungalows – in fact, this was the birthplace of the now ubiquitous stilted accommodation found around the world – but which one do you choose for your blissful escape? It's true that many of the resorts in Bora Bora are international brands, and this might seem a little off-kilter in this Polynesian paradise, but these resorts are poles apart from their counterparts in big cities around the globe. Here, they are dotted amongst palm trees on motus (small islets) with turquoise waters lapping the shore, and not a high rise building to be seen. Each resort brings a sense of the destination to the forefront, from thatched roofs and authentic artwork to Polynesian culture and local cuisine. Here's our handy guide to help you find your perfect overwater bolthole.
Turquoise Guide to Our Six Favourite Resorts in Bora Bora
Four Seasons Resort Bora Bora
Possibly the best-known resort in Bora Bora, the Four Seasons Resort Bora Bora achieves polished escapism with plenty of Polynesian touches. Exquisite overwater bungalows, with breathtaking views from the bathtub, take full advantage of their fantastic location in the lagoon. The cathedral-like spa transports you to a higher state of bliss, and private poolside cabanas add a touch of exclusivity to your luxurious lounging.
Best for: Impeccable service, elegant overwater suites and fine dining. Promises honeymoon perfection whilst being the most family-friendly resort in Bora Bora. An immaculate haven for Four Seasons aficionados.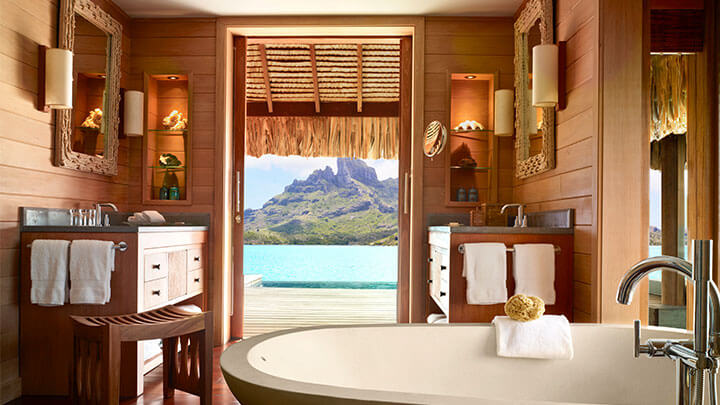 Conrad Bora Bora Nui
Most resorts in Bora Bora face the main island, but Conrad Bora Bora Nui is the exception. Enjoy uninterrupted views across the vast expanse of turquoise water and deep blue ocean beyond the reef. An ideal resort for those looking for modern luxury with impeccable design. This is also the best spot to watch Bora Bora's magical sunsets.
Best for: Contemporary style and far-reaching views. Some villas have deeper water than other resorts in Bora Bora with great snorkelling straight from your overwater deck. Unbelievable sunsets from the overwater bar and incredible views from the heavenly hillside spa.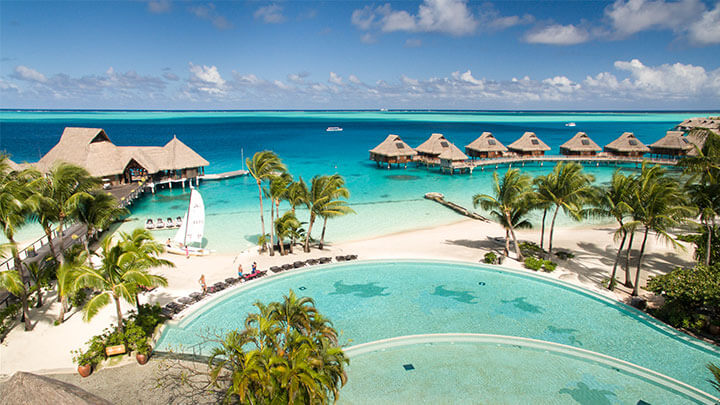 St Regis Resort
Home to Bora Bora's largest overwater villas, the St Regis Resort spans 44 acres of perfected paradise. Nestled on its own island, the spa is a sanctuary not to be missed, and the renowned St Regis Butler Service ramps up the sense of luxury and exclusivity. Wake up to lagoon views from your spacious deck as your morning beverage is delivered to your door.
Best for: Relaxed country-club style, with butler service. Adults-only pool, bikes to get around and a fine-dining overwater restaurant with views to Mount Otemanu.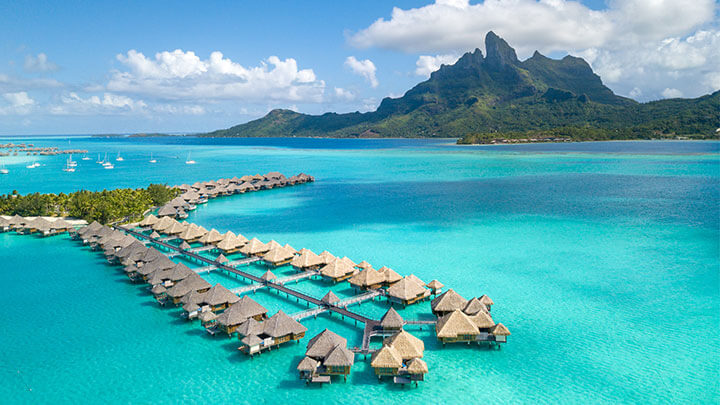 InterContinental Resort & Thalasso Spa
The only resort in Bora Bora with accommodation entirely overwater, InterContinental Resort and Thalasso Spa enjoys a prime location under the watchful eye of majestic Mount Otemanu. Deep Ocean Spa was the first thalassotherapy centre in the South Pacific, drawing mineral-rich sea water from depths of 900m.
Best for: Spa enthusiasts with a passion for thalassotherapy. Astonishing mountain views. Impressive one and two-bedroom Villa Teremoana taking luxury to a jaw-dropping level.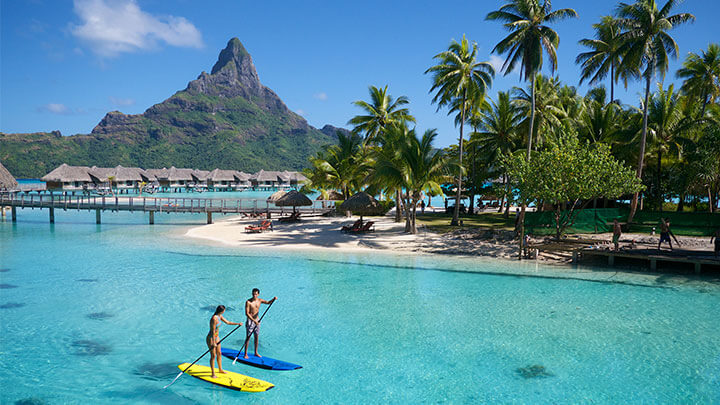 Le Bora Bora by Pearl Resorts

Authentically Polynesian, Le Bora Bora by Pearl Resorts sits apart from many of the other resorts in Bora Bora, bringing a sense of blissful remoteness. Traditional architecture blends beautifully with contemporary design following a complete refresh. Take a sunset cruise on the solar-powered Okeanos Pearl, have fun on the mini-golf course, and be pampered at the Tavai Spa (there's even a tattoo parlour here).
Best for: Polynesian charm without missing out on luxury. Unique location away from other resorts. Snorkelling in the coral garden.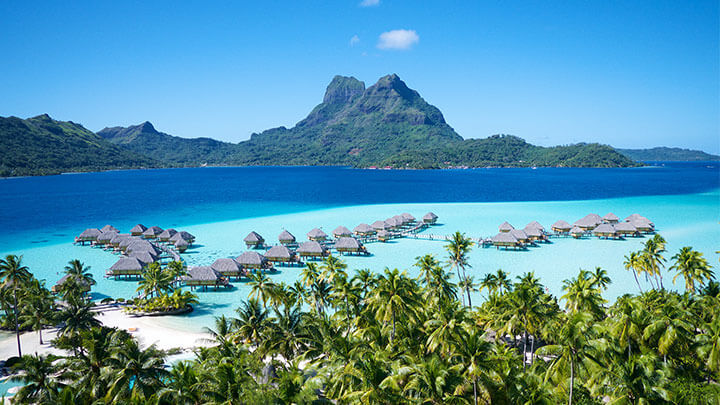 InterContinental Bora Bora Le Moana Resort
Located on the main island of Bora Bora, InterContinental Le Moana Bora Bora Resort allows independence and easy access to island activities. A modest resort with Polynesian flair, authentic bungalows and beautiful views. Infamous Bloody Mary's restaurant is nearby, so too is the main town of Vaitape. Matira Beach, just steps away, is the place to be at sunset.
Best for: Authenticity and simplicity. Getting out and about on the main island. Meeting locals on Matira Beach, and enjoying happy hour by the pool.