Amongst the 30+ members of staff at Turquoise we have many inveterate travellers who have tried every trick under the sun (mostly unsuccessfully) for the elusive upgrade… as well as former airline check-in staff, cabin crew and senior executives all of whose brains have been picked to give you the definitive answer to the question that troubles most people, most of the time. So here goes;
How to get a guaranteed Upgrade.
• Pay for it. Not the answer anyone wants to hear – except perhaps the airlines owners. I am afraid it is really the only sure-fire way of getting a bigger seat. But often it's actually much cheaper than you think. Many airlines for example, do operate a premium economy product such as BAs World Traveller Plus. OK, it is not a lie-flat bed with complimentary pyjamas, but it is a wider seat, with a lot more legroom and is certainly acceptable for those of us who are used to travelling 'at the very back of the bus'.
• At certain times of the year, especially during the quieter seasons, the difference between Premium Economy and economy cabins can be less than £100.
• Don't be afraid to ask your sales consultant for a price when you are making a reservation. The premium economy is a big hit and can get booked up quickly.
• But to add insult to injury, remember to factor in the extra cost the UK departure tax which doubles for premium passengers.
How to get a free upgrade.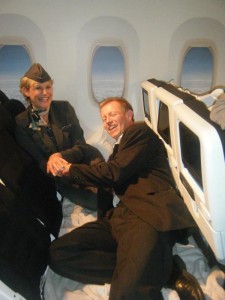 Many little things that may swing it…
• Be friendly, charming and always polite at check in. As a general rule (first hand from our ex check- in staff member) those that ask for an upgrade DON'T GET.
• Upgrades usually happen when economy class is full and they have overbooked. This generally happens in peak times like summer, Easter and Christmas.
• Don't order special meals. They are not going to search you out with a vegetarian option from economy class, are they!
• Sign up to the airlines frequent flyer programme. In the hierarchy of those Suitable for Upgrading (SUG), being a member of the airlines loyalty programme is a big plus.
• Look clean and tidy. Avoid wearing track suits and other bits of your gym kit. But you really don't have to wear a tie – even if you are a young conservative!
• Avoid having too many pre flight drinks in the bar.
• Tell them it is a really special occasion. If it is your honeymoon we will have already told the airline of your behalf. Even in economy you might still get a cake! It isn't unhelpful to the cause. But try to be truthful. They can check out honeymoon claims.
• Or Wedding anniversary claims.
• Or significant birthday claims.
• Smile a lot, but not in a mad way.
And remember it is not too late to be upgraded once you are on board.
• You may well have been entered as SUG without you knowing it. It may only be apparent on boarding the aircraft that a business class seat has become available.
• Always more difficult if there are two of you but if something isn't working like seat belts or your seat back TV, have a quiet word with the cabin crew and ask to be moved. But be discreet or everyone will try it on.
• Screaming child. Hugely fat person next to you. Really loud snorer. If you are unfortunate enough to be placed next to one of the more challenging fellow passengers, again have a quiet word with one of the cabin crew. They tend to be human (well most of them anyway!) and will have sympathy for your predicament, so you never know…
Good luck!