Not as far as you might think, a flight to Perth is just 19 hours, not that much further than a flight to South-East Asia and a perfect destination for those looking for a city and beach break. Australia is often considered a long haul destination requiring many weeks to explore but consider taking a small bite of the apple and just sample its south-west corner of delights.
Perth itself is emerging into an exciting cosmopolitan city with a complete redevelopment of its downtown and waterfront areas. It is no longer the laid back city it once was and with the addition of sophisticated new restaurants and bars along with new boutique and luxury hotels it really is worth spending a few days exploring. Take a cruise over to Rottnest Island, where you can hire a bike and discover its hidden beaches and crystal clear waters, cruise down the Swan River or walk through Kings Park for magnificent views back across the city.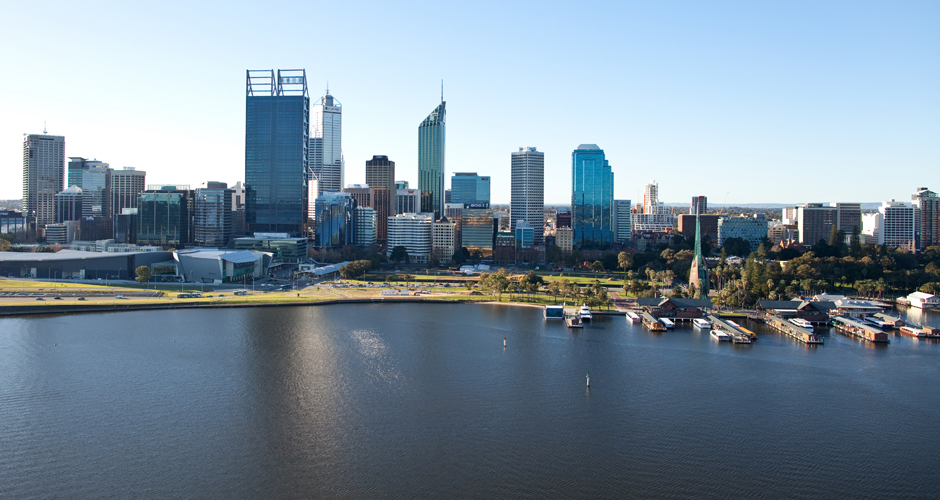 We couldn't be more excited to hear that COMO Hotels and Resorts have opened their first 'Urban Retreat' down under with The Treasury – the latest edition to Perth's hotel scene. Their attention to detail and truly top class service has really up the luxury stakes and it most definitely Perth's most high end hotel and our new favourite. The location is perfect, right in the heart of downtown and within walking distance of Kings Park and the waterfront. The whole hotel has been transformed from three 140 year old heritage buildings which used to home the Port Office, Land Titles office and treasury into an uber stylish contemporary haven. From the moment you arrive, with champagne in hand, you'll be guided through this fascinating building, which has returned 95 per cent of the structure to its 19th century origins but with a cool modern interior. The sumptuous rooms are huge and bathrooms equally as spacious and the COMO Shambala Spa and dining options are the best in town.
Perth is the gateway to Western Australia which boasts over 12,000 miles of coastline with the Indian Ocean – as you can imagine there are a lot of beaches to explore. In the north-west the spectacular wilderness of the Kimberley is perfect for exploring between May and October – think rugged escarpments, waterfalls and endless landscapes – perfect for a 4WD adventure. If travelling in our winter head south to the Margaret River where you can sample some of Australia's finest wines – 10,000 acres of this region is under vine. It is also home to a dramatic coastline of long unspoiled beaches, ideal for long walks or simply pulling up a sun lounger and enjoying some winter sun!
So next time you are looking to escape our winter, in search of an idyllic beach and city stopover, Perth and Margaret River could be the perfect combination. With some fantastic air fares around a 10 night break costs from just £1,799 per person including international flights, 3 nights at The Treasury in Perth and 7 nights on the beach at Pullman Bunker Bay in the Margaret River, all your transfers and a week's inclusive car hire.