Five weeks into my new job at Turquoise and I was lucky enough to get a chance to visit the idyllic Tahiti. My first thoughts were filled with images of crystal clear turquoise waters, enjoying stunning sunsets from my overwater bungalow and copious amounts of sea food……and I was definitely not disappointed! Tahiti and Her Islands surpassed all my expectations in so many ways and really do deliver something for everyone.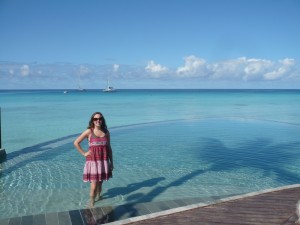 Coming off our arduous 24 hour flight we arrived into Papeete with just enough time to shower before heading straight to bed. From then on it was full steam ahead experiencing all that Tahiti had to offer as well as a spot of shopping to pick up a much prized black pearl! In Papeete we stopped at local market for lunch and a look around the city before flying out to the island of Rangiroa. Just 5 minutes from the airport and down a really quiet, secluded road we got to the newly renovated Hotel Kia Ora. The perfect place for people that want to really get away from it all, we spent our time here doing a boat trip out to the Blue Lagoon and sipping cocktails on the overwater bar whilst watching the sunset – a must in Tahiti! As well as having a bit of time to enjoy some amazing diving and snorkelling (we swam with lemon sharks and reef sharks!), Rangiroa had a really laid back atmosphere and some of the most incredible outer islands where we were lucky enough to have an authentic Tahitian BBQ on our private beach.
Our next stop was to the infamous Bora Bora, and my first experience staying in an overwater Bungalow at the amazing Four Seasons! I really got into the spirit of the place relaxing in a flower and bubbles filled bath (run by my butler!!),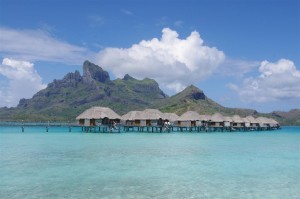 listening to my iPod on the surround sound speakers with all of the doors wide open to the sea – something I would definitely recommend! Not far from the Four Seasons are the other stunning hotels of Bora Bora, The St Regis, Hilton Bora Bora, Pearl Beach Resort and the fab Intercontinental Le Moana and Thalasso; a real mix of properties which provide something for everyone. If you are into spa treatments then you really can't go wrong with any of these resorts and I was blown away by the views from the treatment rooms at the Hilton and St Regis and loved the style of the Pearl Beach and Thalasso….my only wish was that I had the time to experience them all! Whilst here we also walked in the footsteps of celebrities with a trip to the restaurant Bloody Mary's and a trip out on the lagoon, this time swimming with sting rays, reef sharks and more tropical fish than I could ever attempt to name! Last stop was the more mountainous, adventurous and rugged Moorea, which felt like a combination of all the islands. There are fabulous sea views and lagoons as well as the mountain backdrop where you can do hiking trails and also explore the local culture right from your door step. There is plenty of local culture to explore; I won't forget the colourful vibrant traditional Tahitian dances! The Tahitian people are extremely friendly and are always accommodating and very enthusiastic to tell you about their country and their way of life. Moorea is the perfect place to get out and about either on foot, on horseback, on quad bikes or for the more relaxed a 4×4 drive (as we did), up the mountain looking out to the sea and coast of a country which really can be described as paradise on earth, this is when it hit home where I was and how special this trip had been.