Overindulged this Christmas and fancy a break to put some health and vitality back into your body? We have the perfect destination for you….
Nestled in a natural cove on the north east coast of Zanzibar, near the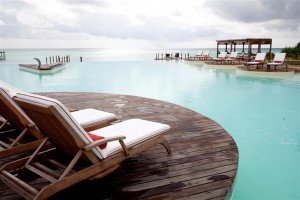 village of Nungwi, Essque Zalu combines contemporary luxury with a real sense of place. It has the turquoise waters of the Indian Ocean to one side and lush green forest to the other – and there is just a hint of spice in the warm and fragrant tropical air. Built sensitively in the local style with thatched roofs, yet with minimalist decor to reflect Africa's modern feel, Essque Zalu has brought boutique luxe to Zanzibar's shores.
The healing EARTH Spa is inspired by the ancient, traditional and therapeutic heritage of Africa. Using an inspirational blend of indigenous botanical and essential oils, herbs, plants and s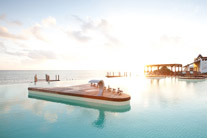 eeds, the treatments aim to re-awaken and re-charge each guest's energy, focusing on continuous nourishment, protection and harmony of one-self. The three distinctive restaurants include The Market Kitchen (which serves fresh local organic produce), the A La Carte restaurant for superb fine dining, and the more relaxed Jetty, where guests can dine al fresco beside the warm the Indian Ocean waters and enjoy an Arabic themed menu. There are also three bars – the Baobab Bar, the Wine Lounge and The Jetty.
Personalised service is a hallmark of Essque Zalu – and your 'Navigator' (the hotel's unique take on butler service) will ensure that your every wish is catered for.