You don't see holidays to the Philippines in many tour operators' brochures – why not? It doesn't spring to mind as the top of people's wish list, but as word gets out about how stunning the 1,707 islands really are we predict the Philippines to be the new hotspot destination for 2017! Don't just take our word for it, Conde Nast readers have voted Palawan as the most beautiful islands in the world for the second year running. As specialists in creating dream holidays and honeymoons to the most castaway islands, romantic havens and hidden beaches, we were just a little more than curious to discover these islands for ourselves, sending Rachel and Willa on a mission of discovery…
Travelling around the Philippines islands
Getting between the islands does often involve a journey via Manila or Cebu but it's worth it. You can also include exciting city stopovers in Hong Kong, Singapore or Kuala Lumpur one the way there or way home to break up the journey. Manila is the gateway, but it is the islands beyond that are a treasure chest waiting to be discovered….
Palawan, El Nido
Stunning Palawan, a collection of islands in the west of the Philippines including the island of Coron and El Nido, both famous for their impressive limestone karst scenery, azure lagoons and amazing snorkelling and diving.
Stay in one of the resorts tucked away within the bays and coves of this dramatic landscape – this is the part of your holiday where you'll feel castaway in a remote hideaway retreat.
Amanpulo is the top choice for luxury here and has a Maldives-esque style to it. However, for the dramatic scenery, El Nido wins our top spot! Either stay at Lagen Island,  a four-star resort hidden within a small cove surrounded by dramatic limestone cliffs, or Pangulasian Island which offers five-star comfort with stunning sunrise and sunset views of the dramatic Bacuit Bay. Access is by flight from Manilla or once a day from Cebu.
Boracay
Beyond Bohal the Philippines is probably most famous for Boracay, just seven kilometres long and with a stunning four kilometre stretch of picture postcard powder soft white sand…  If you enjoy basking in the sun during the day and living it up in local bars and restaurants at night, this is the spot for you. The sea is crystal clear here making it ideal for diving and snorkelling and whilst it is the most developed of the islands it is not spoilt and still retains a local charm.
The island is divided into three stations of the beach.  Station one is the quieter end of the beach where two of our top hotel choices are located, either The Lind Boracay or Discovery Shores, both contemporary four-star options with stylish rooms, cool pools and gorgeous beachfront settings. In the evenings head to station two where D-Mall is located. Here you can meander around the boutique shops and cafes, that lead to the beach front where you'll find the majority of the bars and restaurants.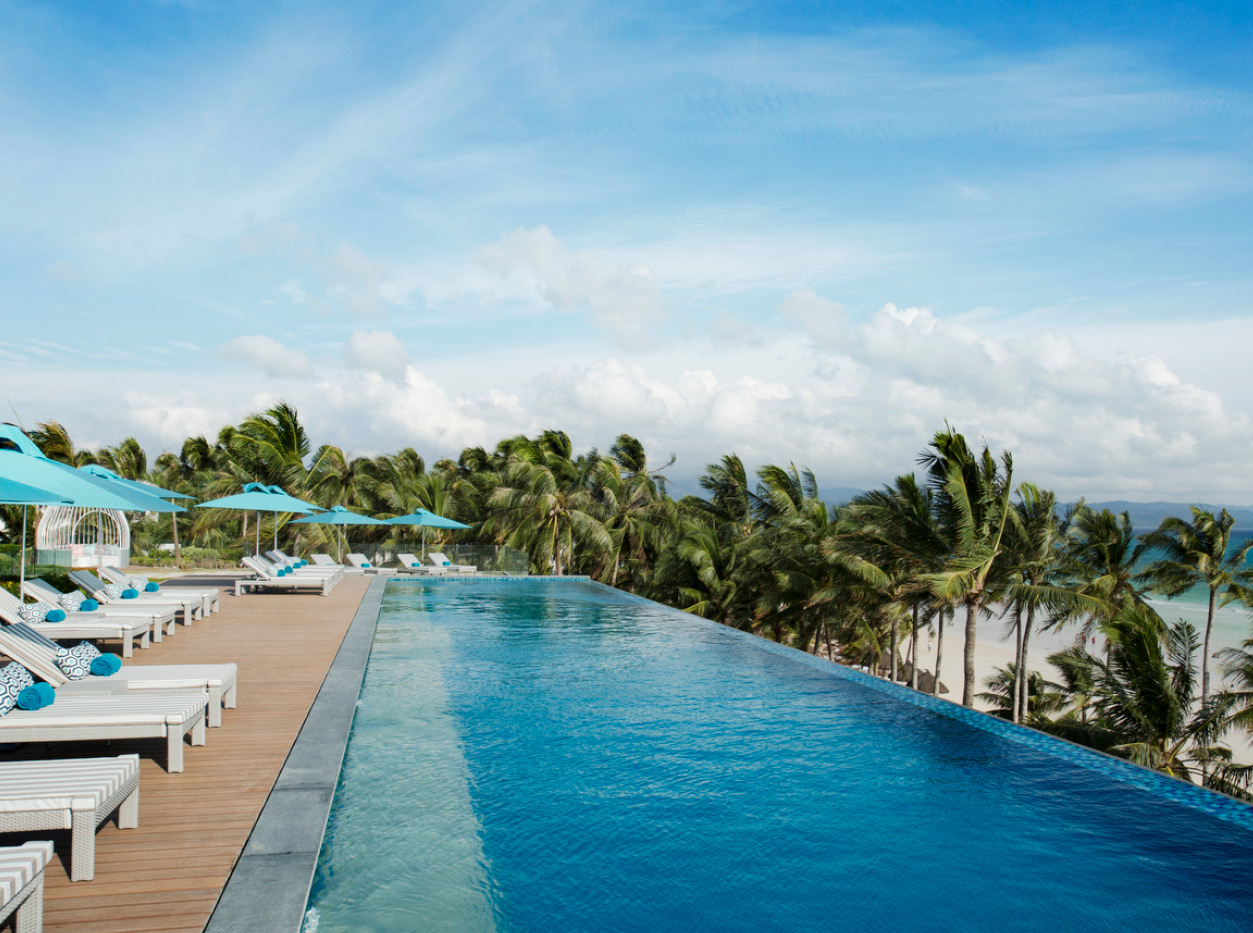 The Lind Boracay, infinity pool
Our top accommodation choice is the Shangri La Boracay, located about 20 minutes' drive from Station One on its own private stretch of beach – a far more tucked away state of affairs and the best of both worlds in terms of luxury, away from the crowds, but the nightlife being easily accessible by the resort's regular shuttle.
The resort combines spacious rooms with stunning sea views with private pool villas all designed with a local style. The resort boasts an amazing landscaped pool, top class spa, kids club, dive centre, four restaurants and two idyllic beaches. Boracay can be twinned with either Bohol, Dedon Island, or one of the islands in Palawan.
Bohol & Panglao
For nature and adventure lovers Bohol is a beautiful natural island, covered with jungle clad mountains, rice paddies and scattered with charming local villages. At its heart are the famous Chocolate Hills, a unique collection of hills which, in the dry season, turn brown and resemble Hershey's Kisses!
Enjoy a day tour to see the smallest primates in the world – Tarsiers, cute little creatures about the size of a squirrel with huge eyes. Take a cruise down the river observing local life along its banks, see how rice is grown and walk amongst the chocolate hills. The more adventurous can even join an ATV tour amongst this unique scenery or zip wire through the trees.
We haven't even mentioned the diving and snorkelling which is absolutely exceptional in Panglao and nearby islands as it is pretty much throughout the Philippines. Stay at nearby Panglao, connected to Bohol by a bridge, with gorgeous powdery white beaches, pristine turquoise sea and lively nightlife at Alona Beach with local bars and restaurants located right on the sand.
South Palms Resort is a traditional, relatively simple resort but on the best stretch of beach, making it a definite favourite. Upgrade to the more sophisticated Amorita Resort, perched on the edge of a cliff at the very end of Alona Beach, commanding spectacular views of the ocean and overlooking the beach. An ideal retreat for luxury and seclusion but within walking distance of the local restaurants of Alona.

Read through our collection of suggested Philippines holiday itineraries for some ideas on how to create a holiday combining a few different island, or our experienced team can create a bespoke itinerary perfectly suited to you!