One of the questions we receive about safaris is what to expect in a normal day. I recently stayed at the stunning Lamai Serengeti and shared this with one of my honeymoon couples. I hope you enjoy the read!
You will be woken with a tray of tea or coffee with homemade biscuits at around 6-6.30 am. You may head out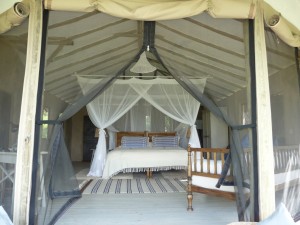 for a game drive about 7am and return to the lodge for breakfast later on. Sometimes they may pack up a breakfast picnic to have out during the morning game drive, particularly if you are heading out for a longer drive. This consists of breakfast sandwiches, sausages, cereals, fruit, yoghurt, juice, tea & coffee. The guides will pick a perfect spot for you to enjoy a leisurely breakfast, bush style!
Breakfast back at the lodge would consists of a small buffet set up with cereals, fruit, muffins, pancakes, yoghurt, cheese/ham, bread. Juices, tea & coffee served at the table. Your cooked order will be taken at the table and consists of a choice of eggs (fried, poached, scrambled or Spanish omelette), bacon, sausage and cooked tomatoes. Toast will also be served in a basket with your cooked breakfast. Jams, peanut butter, marmite & honey are all available. The bacon & sausages were excellent – so often the bacon & sausage on holiday are a disappointment I find!
The rest of your morning is at leisure. Enjoy a relaxing hour or 2 by the pool, sit down with a good book or catch up on a bit of sleep!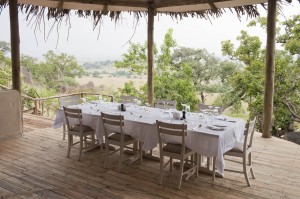 Lunch is served at 1pm and will be a small buffet where you help yourselves. Lunch is light and we had things like chicken satay, fishcakes, mini calzone etc served with 2 types of salad and homemade bread then some kind of prepared fruit for dessert. Wine, beer and soft drinks as well as filtered water are served with lunch.
Again you can chill out at the lodge or there may be chance to enjoy a short walk, depending on the conditions. When I was there the grass was shoulder height and it would have been dangerous but when the wildebeest have been through and eaten it all, it would be possible. There would be a nominal charge per person, payable in camp.
Afternoon tea is served at around 4pm and there is tea/coffee and home baked cakes. After this you will head out once again for a game drive and sundowners, returning to the lodge as darkness falls. Time for a quick freshen up and then back to the lounge for drinks and dinner.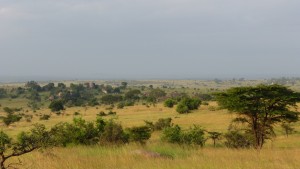 Dinner is served around 8pm and is a 3 course set menu affair. Pre-dinner canapés are served in the lounge with drinks from 7pm. Most people do gather in the lounge sometime between 7-8pm to talk about their day.
The guides mingle to discuss the next days activities with you and you also set your wake up time and place your morning tea/coffee orders! Starter was usually soup, main was usually meat or poultry with potatoes/rice & vegetables. The desserts were always delicious! I would describe the food as home style cooking with a contemporary twist. Meals I had were chicken curry with rice & vegetables and beef fillet with dauphinoise potatoes & vegetables. All are beautifully presented and if you are vegetarian or have allergies or 'don't likes', do let us know and we can tell the lodge so they are prepared.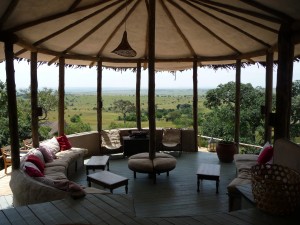 The restaurant is semi open air and also has an open air deck for when the weather allows. They also have a lower deck which can be used for private dinners – as honeymooners you will get one romantic dinner. Dining is flexible in the sense that you can enjoy a table for 2 or you can dine with other guests. The lodge managers do normally eat with the guests – they will respect your preference if you would rather dine alone but I do think it is fun to share a table on some nights – you might meet some fascinating people!
The bar is always available and there is a choice of local beers, red & white wine, spirits and mixers/soft drinks (they have diet coke but not diet tonic) and liqueurs. All are included in the All Inclusive – Champagne & fine wines are available at a supplement but the house wine is really lovely anyway!
Hopefully this has given you more of a picture of what a day in the life at Lamai is like. It really is a very beautiful and special place.