From the beaches of Borneo we head down to Sandakan to see the Orang Utans and other wildlife offered along the Kinabatangan River.
Arriving in Sandakan we are met by our guide for a short drive to the Sepilok Orang Utan Rehabilitation Center.  We are told on the way that if we don't see an Orang Utan it is good thing, but we couldn't help but feel slightly disappointed and still arrived with hope to see one.
We are briefed on the animals, having 96.4% of the same DNA as humans any cross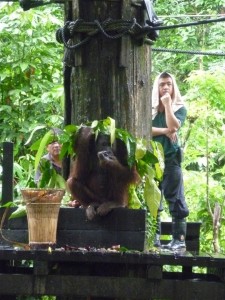 infections can be harmful, the animals are not to be touched and keep your distance.  Walking to the viewing platform I was expecting there to be a glass partition or something similar but we found ourselves standing in the middle of the open jungle.  To the left, high up one of the trees we spot one, they all have names and their own characteristics.  From nowhere he appears walking in front of us, arms stretched out wide, we are touching distance of what turns out to be a 20 year old male.  Without a care for the people gathered around he slowly meanders past taking shelter up another tree.  It's pouring with rain, and as we all stand with umbrellas, he does the same, making a shelter out of leaves.  Not even the arrival of the fruit is enough to make him come out of the shelter!  On the feeding platform he sits helping himself to a basket of fruit, whilst making sure his rain hat didn't fall off.  For such big creatures they are incredibly graceful. I could stay and watch him all day but there is a video explaining the work being done to watch and you soon realise what a privilege it is having seen him and been so close.
From one amazing experience to another, we head down to Sukau, which takes around 2 hours by private transfer, but the time flies chatting to our guide about all the things we may see in the day ahead. We arrive to greet a small boat waiting on the murky waters that takes us on a short trip down river to the Borneo Nature Lodge.  The newest of the lodges along the river it is the only one to have an enclosed restaurant.  It's very much an eco-lodge, where you can help generate electricity with a bit of cycling but don't worry you still have air conditioning which is very welcome!  The rooms are clean and have everything you could need, all windows have fixed mosquito nets and even families can be accommodated.  After lunch we have time to relax before afternoon tea with homemade cakes and heading out on the river safari.  I
really wanted to see the Pygmy elephants but they were too far upstream, however what I did see soon made up for it.
Heading downstream our guide announced that he could smell Orang Utan.  Thinking he was joking I laughed but he was adamant he smelt them and there it was… hanging in the tree in front of us… a truly wild Orang Utan.  I never expected to see one so close and it felt such a privilege.  We were only on the river for an hour but in that time we saw Collared Kingfishers, the Stork Billed Kingfisher which is the largest in Borneo, Black Nape Monarch in a vibrant bright blue, water monitor lizards, relaxing in the trees, 2 Long Tailed Macaques which we named Scott and Mandy and a 2 groups of Proboscis Monkeys.  The males are quite distinctive with their long noses and there seems to be something bothering the males of each group, we are told they are threatened by each other and are protective of their harem of females.
I didn't want to leave the river but the thought of food and soaking up what I had just experienced was calling.  The lodge does offer night safaris if the conditions are right so it's always worth asking.  It wasn't that night for us so we sat outside talking after dinner and feeling quite content.
We had an early start the next morning to move on to our next adventure…sad to leave we boarded the boat for the short trip back to Sukau. For anyone with the time, 2 nights would be fantastic.  If you only have one night to spare still make the effort to go, you definitely won't be disappointed.  I will just have to go back one day to see the pygmy elephants and have another great adventure…