Huvafen Fushi
Perhaps the most beautiful and unique spa we've ever experienced is the LIME Spa at Huvafen Fushi. Featuring over-water spa pavilions with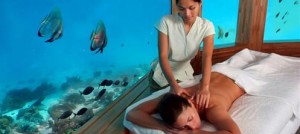 fabulous views of the ocean and the world's first underwater spa treatment suites combined with LIME's signature treatments, it's a winning formula for all spa lovers. Indulge in a complete head-to-toe L'Experience Anne Sémonin, designed to cater for the demands of every individual skin type. The iconic designer underwater spa space oozes calm and tranquillity with soft white tones and oversized cushions, which invite you to relax in the lounge post-treatment with a refreshing drink in hand. You can also admire the colourful sea life through cleverly positioned mirrors on the floor while flat-out on the treatment bed, being pampered by superbly skilled therapists. SUBLIME is the most perfect place to drift away. Situated over the water, the pre or post-relaxation area overlooks the island and the lagoon, guaranteeing a view like no other. The fabulous facilities like the sauna, steam room and the ice room are a must for that added bit of pampering.
A fabulous selection of exotic treatments, from aromatherapy to bespoke massages and signature rituals are tailored to your individual needs. Exclusive body treatments include: PULP Friction, a massage meant to re-mineralise and stimulate through a full body exfoliation, personally blended to suit each individual's needs; an all-embracing LIME Cocoon therapy to nourish and detox; Escape, a tension-relieving sel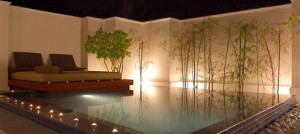 f-heating mineral mud for back, neck and shoulders; and Purity, a specialised regime to stimulate circulation for a smooth and even skin tone. We loved the Sole to Soul – a 90-minute journey including a holistic fusion of Indian Head Massage, marma pressure point massage and foot massage. Pure bliss. A dedicated music menu, visiting spa gurus, and a forward-thinking approach to the wellbeing of body and mind all add to the luxurious, yet refreshingly informal spa experience. After treatment, try the innovative spa cuisine at RAW, an over-water restaurant and juice bar serving healthy yet tasty organic treats.
For more information on Huvafen Fushi follow this link http://tq-ne.ws/BG or call us on 01494 678400