Your Turquoise Saint Lucia experience will start from the moment you step onto your own individual wooden walk-way with your very own personal butler in tow. When entering your own Sanctuary for the first time, you will instantly feel isolated from the real world… The journey that you would have just endured will be instantly erased from your memory and replaced with the anticipation of living in the luxurious oasis that you'll be privileged to call home for your time away… welcome to Jade Mountain in Saint Lucia.
Eliminating the fourth wall offers you unspoiled, panoramic views of the famous St Lucian Pitons. They will surround you and are best absorbed from your own private infinity pool which blends in synonymously with the Caribbean Sea. A glass of champagne is mandatory and best enjoyed floating amongst the iridescent blue & green tiles of your private pool.
It's amazing, how the beauty of dawn and dusk never fail to captivate us, no matter how many times we witness them… Wake up to the vision of the sun slowly rising behind the Pitons, the breeze from the ocean sweeping through your room, relax and let nature's soundtrack of birdsong, tree frogs, and the ocean breeze lull you into a state of complete bliss.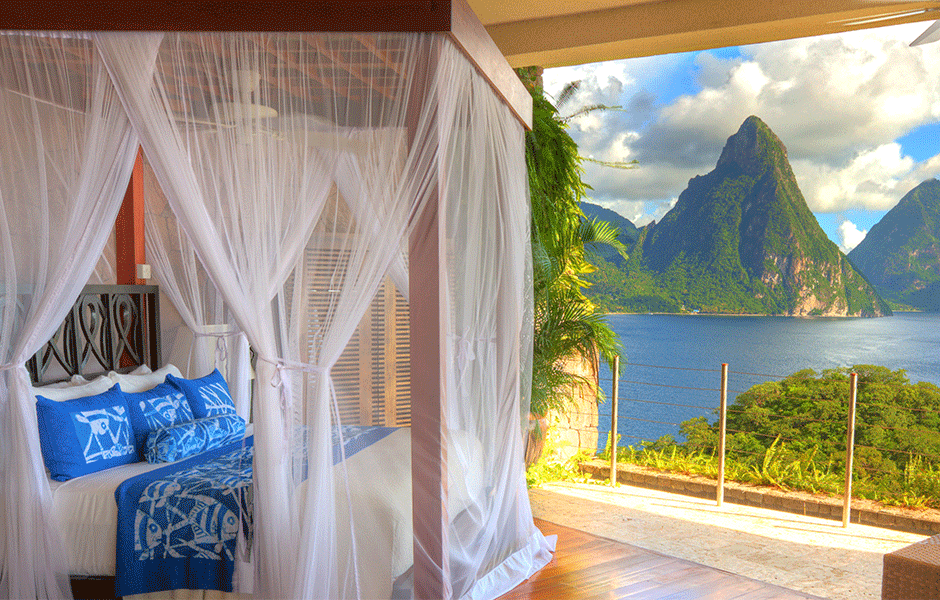 The bathroom undeniably has a very impressive view, eye level to the Pitons in the distance.
Arrive back to your private sanctuary after experiencing the 5* cuisine, to a candlelit room, bubbles in the bath sprinkled with rose petals with a bottle of fizz on ice!
You're guaranteed total seclusion and privacy…Luxury can come in many forms but when a place gives you that warm fuzzy feeling inside, that's when you know it's captured your heart.