We are very proud to officially announce the launch of our very first Turquoise iPad App in conj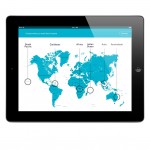 unction with Tablet  Brochure…the ultimate honeymoon planning tool for any Mr & Mrs to be. The first of its kind in the honeymoon market we are extremely excited to be at the forefront of the mobile world… and it is just the start of more exciting developments to come.
Whether you are planning your honeymoon, family holiday or next dream journey, the content of the app can be used by all. Pin point your dream destination on the world map and get lost in a world of beautiful imagery, top tips and inspiration. Contact the Turquoise team directly from within the App or sign up to our social media pages to keep updated with all our latest news, offers and stories.
Click here to visit the Apple Store and download our App today
We would love to hear your feedback on the App, either via the App store (download link below) or give us a call! Unfortunately it is currently only available for iPad… iPhone coming soon!
Have a lovely weekend,
From the Turquoise team
xx