This year, Taha'a's locals will be revisiting the old days by putting on a remarkable spe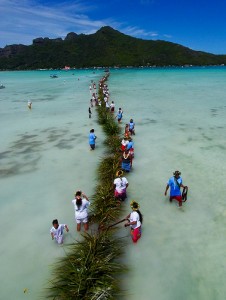 ctacle that hasn't been seen for 15 years. Centuries ago, stone fishing was used as a method to scare large quantities of fish towards the shores and into the woven baskets of the local community. As the name suggests the sport involves literally beating the water continually with stones and this trusted ancient method of fishing provided inhabitants of Taha'a with great quantities of fish that fed the whole community. Nowadays stone fishing is barely performed. However, on the 3rd of August 2012, Taha'a's natives will recreate this extraordinary tradition which will act as the closing event to the Leeward Islands Festival that started earlier this month. The locals will share their olden rituals, their history and their island secrets for only one day and they invite guests staying at Le Taha'a's Island Resort & Spa to join them and partake in this once-in-a-lifetime experience.
For those who don't know about the resort, Le Taha'a Island Resort & Spa is hidden away on an idyllic islet, fringed with an immaculate white sand beach and pristine turquoise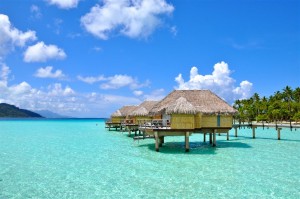 waters that boast one of the most beautiful coral gardens in Tahiti. Le Taha'a Island Resort & Spa is currently offering a 10th Anniversary Special …
Enjoy 7 nights at Le Taha'a Island Resort & Spa in a Sunset Overwater Suite in French Polynesia from just £3,145 per person including daily breakfast, a 50% discount, a Milky Way 3 course Dinner for Two including a bottle of wine and mineral water, return boat transfers to and from the resort, domestic flights to Raiatea and international flights from London.
Travel 01 September 2012 – 31 March 2013, must book by 15 December 2012.