Brian, I know you are very well travelled but I understand your most recent trip was to two countries you've never been to before? How exciting!
Lizzie, I spent much of the eighties (how old do I sound!) travelling in and around South East Asia but at that time, both Vietnam and Cambodia were pretty much off limits, so I jumped at the chance to finally get to see what I knew were really fascinating countries. And it was genuinely exciting for me.
On arrival in Vietnam you stayed in Da Nang, one of Vietnam's major Port cities, just 100 Kilometres from several UNESCO world heritage sites. Did you manage to travel and see any of them? I hear Hoi An is a cultural gem with gorgeous beaches.
I don't want to appear disrespectful to either city but Da Nang reminded me slightly of Birmingham. It has a very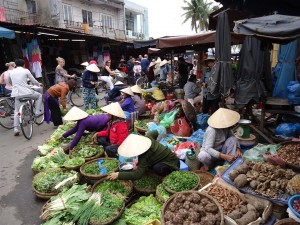 ambitious mayor who recognised the enormous tourism potential of the surrounding area, if not necessarily the city itself! I explored both Hoi An (by bike – the only way to do it!) and Hue, which is the old imperial capital with many beautiful landmarks but still a vibrant working city. Hoi An on the other hand is a delightful old cultural relic with many original buildings and many streets that have been completely pedestrianized to give you a more authentic  feel  of what things were once like.
How easy was the connection between Vietnam and Cambodia? Would you recommend the two countries as a multi-centre holiday idea?
There are a number of direct flights between both countries with Hanoi and Ho Chi Minh City having the bulk of connections into Cambodia. I actually flew directly from Da Nang straight into Siem Reap which took just under an hour. Definitely a great twin centre combination because both countries and their people are hugely welcoming and yet quite different.
Cambodia is world famous for its temples in Angkor near Siem Reap; did you visit them? Have you got any advice for people of when to go?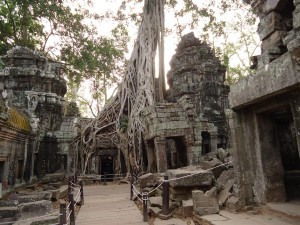 I imagine they can get very overcrowded which may ruin the experience. Yes, an absolute must; one of the great archaeological sites of the world. Of course they do get crowded but our guides in Cambodia really appreciate that swarms of tourists from all over the world can seriously hamper your enjoyment. Their whole approach to your visit is about crowd avoidance. This means a very early start and careful planning of which temples to visit (there are over 100 of them) and more importantly, at what time of the day. Their help will prove invaluable.
Rumour has it you stayed at Cambodia's hottest new retreat…Song Saa Private Island. Does it live up to everyone's expectations?
It looks stunnin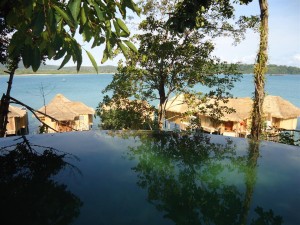 g in the photos! Ah Song Saa. The whole ambitiousness of the project is quite breath-taking. Rory and Mel Hunter, the founders and owners, have just about thought of everything to try and create the little piece of paradise. They have a really strong desire to promote the conservation aspect of the venture with a small army of full time conservationists whilst simultaneously trying to create a unique luxury experience, the likes of which Cambodia has not previously seen. Of course there have been teething problems in the early stages but there is a huge will (and pretty deep pockets) to overcome all of these issues to ensure this will be a huge success. Get in early and be some of their first guests!
I have to ask about the food! Did you try any local delicacies?!
How about the local tree frog curry on Song Saa, created by their head chef Neil Wager, formerly head chef at North Island in the Seychelles, where you-know-who had their honeymoon (Will & Kate!!). Come to think of it, it doesn't sound very conservationally minded but I am assuming there were plenty of frogs to go around! Actually I was really, really impressed with the food in Vietnam – so many unusual tastes, delicious salads and food that felt really light and healthy but very satisfying. I couldn't recommend it highly enough.
Finally, where next Brian?
Actually, shortly off with the whole family (wife and three teenagers) to Borneo for a bit of orangutan action. We have seen a surge of interest in Borneo recently and especially from families. It seems only right to do my own bit of research, doesn't it? I'll keep you posted, Lizzie!