Abundant with character and charm Ashburnham Estate, in the heart of Sri Lanka's Cultural Triangle, is the perfect haven of tranquillity, boutique luxury and a home away from home. Set amidst a 100-acre working tea plantation, with stupendous views over the Hill Country and graced by cascading waterfalls, this colonial homestead truly is a sight to behold. We caught up with the delightful owner David Swannell, where he shares with us the inspiring story and heritage behind Ashburnham Estate…
1. What drew you from the hustle and bustle of London life to Sri Lanka and how did you come across the Ashburnham Estate originally?
That is a convoluted story… I first went to India aged ten for six weeks; the trip had a massive impact on me, and I fell in love with the sub-continent. After university, in the early 90s, I bought a one-way ticket to India and a couple of times, during my years there, I went to Sri Lanka to renew my visa. I realised that it had a lot of the attributes of India, as well as many advantages.
Aged 26, I was still pottering around India but decided to try to get a job in the City. Mainly by accident, ten years later I was running the European operations of a global financial services company. But I yearned for the sub-continent. When my sister moved to Kandy in 2003, I dropped in at the first opportunity. As soon as I walked in the door, she suggested I buy a holiday home there, and that they would look after it for me. The next day we were out with a property agent, who showed us a few unprepossessing homes, and then mentioned he was also selling a tea estate further up the same winding road we were on. We rounded a bend and I saw Ashburnham sitting on a small hilltop. It was love at first sight, and so a few days later found myself buying an operating tea plantation.
In 2008, at the height of the Global Financial Crisis, it seemed like time for a radical change. I knew well where I loved to spend my days the most, so I upped all London sticks and moved to Ashburnham.
Roll forward 9 years, and I'm married to Indeevari, who is from Kandy, and we have 3 kids, so Sri Lanka is now "home".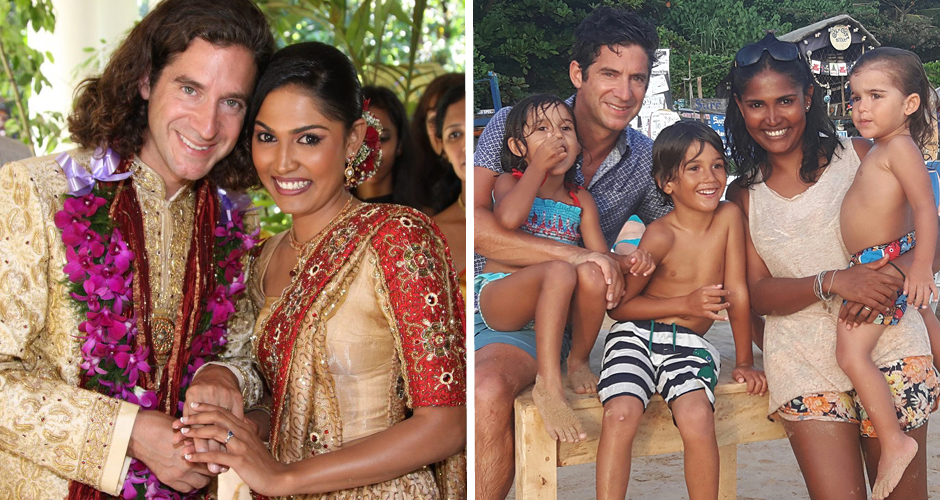 2. How have you seen tourism change in Sri Lanka over the years you have been there?
Tourism, until the war ended in 2009, was limited to an extent. In those earlier years, we kept the place relatively simple, and the majority of the guests were Sri Lankan. In the last few years we are seeing a progressive increase in numbers of tourists, as well as the expectations of higher levels of service – so we have raised the game at Ashburnham to provide what we hope is a delightful experience, both in the house and on the estate.
3. Could you give us a brief overview of the Estate's history? Has it always been a private home?
The house was built in the early 1930's. We know a limited amount of the history, as little is recorded, but it certainly changed hands many times over the years as we know of at least seven owners! It was owned by Brits until the 1960s I believe, and then Sri Lankans until I bought it in 2004. We were delighted to be visited recently by the granddaughter of the owners from the 1940s and 1950s, who were amazed to see a lot of the elements still in the house, such as the original Aga.
4. The location of Ashburnham Estate is perfect for those wanting to be able to visit the cultural triangle attractions of Sigiriya, Dambulla etc, but also Kandy and the surrounding tea and hill country…how long would you recommend staying at Ashburnham to get the most out of it?
Yes, I would agree. It is generally the view that "tea country" is Nuwara Eliya or Hatton – but our location is equally picturesque, and better located for both staying on a tea estate, and getting to these other places of interest. What's more, it's warmer!
We certainly recommend people to stay at least two nights. Three or more is better still, and we regularly have guests for a week, which is sufficient time to get to know the estate and the immediate locale really well, including some fantastic long walks, as well as the Cultural Triangle and Kandy.
"We wished we'd stayed longer" is a regular guest book comment.
5. The Estate itself is over 60 acres… what are your top three recommendations for people to do whilst staying with you?
When I bought it, it was actually 71 acres; later I bought some of the next door estate, so now it is a total of 100 acres. My top three recommendations are:
i) We are blessed to have a beautiful 45 ft waterfall on the estate, which flows all year round. Getting down to it is a "must", and even better if you have a "power shower" under it. We also have other smaller waterfalls and a cascade pool on the estate and many trails to wander along.
ii) A "tea tour" with Mr Das, the estate manager, is also highly recommended. Mr Das can give you all of the backgrounds into how the cup of tea is produced from bush to cup.
iii) We have a resident naturalist, Minila, who can accompany guests for walks, both long and short, and point out the fauna and flora of interest – in particular, the Knuckles area has an abundance of beautiful birds for keen ornithologists. Most days we see eagles on the estate. These treks can just be near to the house, all around the estate, or, further afield, up to "One Tree Hill" or even to the top of Hunasgiriya – 8 hours there and back – a wonderful full day trip that I've done a good few times.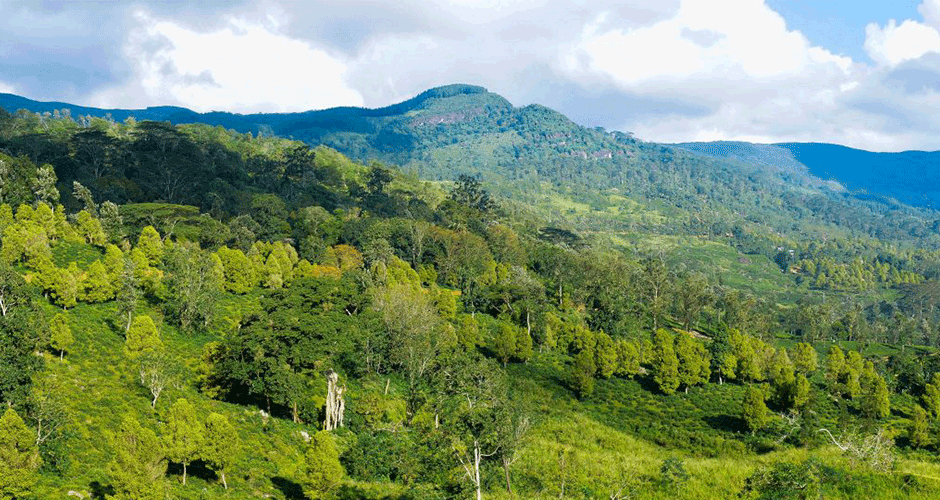 6. What/who is the inspiration behind the design and style of Ashburnham? It's very different to some of the more traditional properties you might find further south.
The style has evolved over the years, rather than being the result of one "fit-out" process. Hence it is more eclectic, and hopefully a little funkier too. Recent improvements were guided by Annie de Silva, an interior designer based in Colombo. We often are told that guests feel like they are "at home", which we consider to be positive feedback.
7. What is your favourite thing on the Ashburnham menu and is the food locally sourced? I can imagine you have some amazing vegetable gardens!
My personal favourite is a newly added avocado and prawn starter – a kind of Ashburnham prawn cocktail (avocados from the estate). Sounds a bit dated but comes with a sort of foamy broth and is delicious!
The Sri Lankan curries are fantastic too! Reggie and Nalinda in the kitchen do produce some excellent cuisine, and they do cooking lessons for guests as well – and yes, we have an organic vegetable garden that we use as much as possible.
8. What is your favourite time of year to visit Ashburnham in all its glory?
Sri Lanka has much less variation in temperature than Europe, being close to the equator. My favourite months are February and March- those months often popular with Brits as they are escaping the back end of the long British winter. But any day that I'm at Ashburnham, personally speaking, I'm happy!
9. How would you describe the Ashburnham experience in three words?
One is enough – Magical. This is the word I've heard people use so many times over the years. I'm biased of course, but I do consider it is a very special place.
10. Finally, if you could give our clients one top tip about travelling to, and around, Sri Lanka as a holiday destination, what would it be?
The most important tip is not to try to do too much. Many times people look at the distances on the map and think they can cover most of the country in ten days. The reality is that the roads (other than the two Expressways) are slow. On a ten day trip, I would, therefore, recommend staying in a maximum of three places.