Tucked away on the spectacular east coast of Kenya, Almanara Boutique Hotel and Villas sits quietly on the picture-perfect 25km coastline of Diani Beach. Endless pearl white sands and luscious emerald forests provide a backdrop of serenity for these exclusive villas and boutique property, offering complete escapism for those who visit. A true paradise on earth, we are delighted to welcome Almanara to our Kenya portfolio. We caught up with the wonderful General Manager and Head Chef at Almanara's Sails restaurant Luke Doig…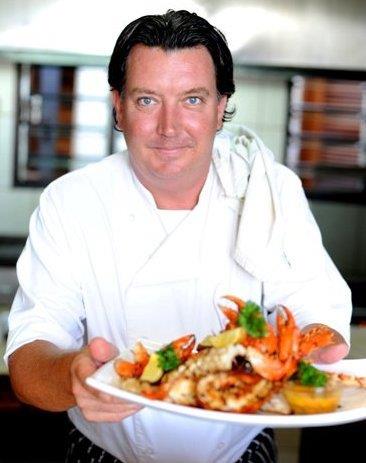 1. We are so excited to be launching Almanara as part of our Africa programme- we love the new look of the villas and boutique hotel! What drew you to the Kenya coast?
I initially came to Almanara as a consultant. After this, I decided to stay on as it was such a unique and beautiful venue set on one of the amazing beaches in the world.
2. How do you find life juggling your position as General Manager and Head Chef at Almanara?
I divide my day between the restaurant and the office, making sure I am always at Sails for service, which is lunch and dinner each day. We have a great team here who support me and as we are a relatively small operation, managing both jobs works well.
3. If you could sum up our guest experience at Almanara in 3 words what would they be?
Luxury, Bespoke, Relaxed
4. We love the sound of the private villas do you have a favourite and why?
Each of villas has the same layout, however, they all differ slightly in terms of décor and positioning. The gardens around the villas are stunning offering privacy and a real feeling of nature. Casa Bella – our boutique hotel – is something quite different. The décor is a touch more modern and the house offers incredible views of the Indian Ocean below.
5. We adore the style of the Boutique Hotel "Casa Bella" it is a great name, what is the story there?
The Boutique Hotel was originally built by the owners – Nico & Bella Giovando – as the family holiday home. You can guess the rest.
6. Charlie mentioned you have worked all over the world, notably the Savoy in London and Muthaiga Club Nairobi! Does your menu at Sails draw inspiration from around the world?
The menu is predominately seafood although we have, chicken, beef and vegetarian options as well. I change the menu every Wednesday but we always keep our favourites on. I would say that the menu has many influences, but is mostly Italian, Asian and Swahili.
7. What is your favourite dish on the menu at the moment and why?
My favourite at the moment is the Zanzibar Baked Snapper with a cashew nut, chilli and ginger crust which is served with a coconut and tomato sauce and topped with freshly grilled coconut, lime wedges and fresh coriander leaves. I invented the dish quite recently and it works well.
8. Are there any local dishes that you recommend every visitor to try even if they aren't on the menu at Sails?
I think everyone should try our fresh mangrove crab which is available along the coast. It's simply plain boiled and served with a ginger butter sauce. We have a few variations of this dish, but the crab is just amazing. Also one should try some of the local Swahili food which is unique to the coastal area.
9. As Sails is a beachfront restaurant I assume you use lots of local seafood, what is your local catch of the day?
Catch of the day differs according to the time of the year but we always have fresh tuna, crab, oysters, lobsters, calamari, red snapper and prawns – enough choice to keep everyone happy!
10. Finally, a lot of our clients combine safari and beach in Kenya, do you have a favourite safari spot?
I have been lucky enough over the years to have visited all of Kenya's national parks and wildlife conservancies. My personal favourite is Meru National park followed by Tsavo West and the Laikipia region. Depending on the length of your holiday I would recommend a few nights in each area as the parks vary i.e northern Kenya is very different to the south in terms of flora and fauna. You definitely need to come to the beach after your safari to relax!!